August 1, 2019
Arts & Culture
Artistic journey comes full circle
A 10-year artistic journey has come full circle for South Australian artist Daniel Connell.
After three years spent in India sharpening his skill in portraiture, artist Daniel Connell returned home to Adelaide in 2010. It was at that time he noticed a cultural barrier faced by South Australia's growing population of Indian migrants.
A taxi trip with driver Girsagar Singh would begin a decade-long artistic journey. Girsagar, from India's the Punjab region, was the first subject in Daniel's breakthrough 2010 exhibition Faith in Taxis, which depicted Adelaide taxi drivers.
This month his artistic practice comes full circle with his exhibition Encounter and Obligation featuring a new charcoal sketch of Girsagar and other migrants.
On display until August 7 at SASA Gallery, UniSA City West Campus, the exhibition is the result of nine years of building relationships with migrants. "It was when I met Girsagar in 2010 that I suddenly thought I should do this project, in order to help."
 "I wanted to enable them to have a visual voice, other than just being the taxi driver. Moving from seeing these people in our periphery to seeing them face-to-face."
Along with beginning an artistic journey, he also started one of advocacy — helping migrants, particularly from India, to transition to life in Adelaide and be recognised for their skills. For him, the relationship between artist, subject, and audience extends beyond the artwork.
"I began to engage with people about the process of finding schools for their kids — for example the turban and the uniform policy. We started Turbans and Trust, and we now have a group which is helping new migrants write cover letters and CVs."
He noticed migrants were not being recognised for their skills here, despite being professionals and even corporate CEOs in their homeland. "How can we help these people communicate who they are to a local audience so they can more quickly get closer to their field? 
"South Australia's desperate to keep skilled workers here, but we really need to work harder at that."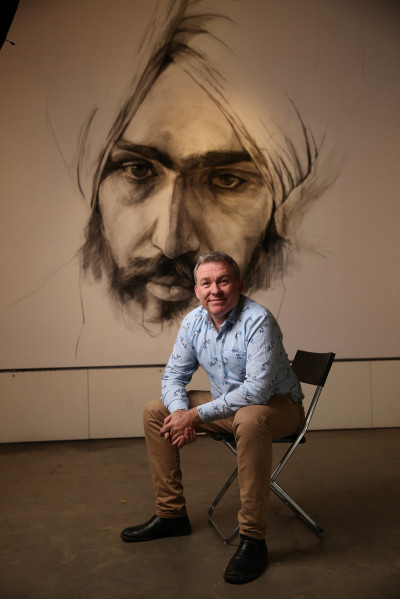 The engaging portraits in Encounter and Obligation have a direct gaze to the viewer. "That's a deliberate ploy to make people stop, look back and enter into conversation," Daniel says. 
"We're programmed to read people's faces from the very first moment we open our eyes; if somebody's looking at you, you pay attention." 
A lecturer in painting and drawing at the Adelaide Central School of Art, Daniel says charcoal is the perfect medium; cheap, portable and environmentally friendly. 
"It's really primal and gutsy. It's amazing stuff because it's so black and so fine," Daniel says. "It's non-toxic and you can draw on walls and paper."
He says portraiture has a colonial heritage, whereby the artist captures and fixes the identity of the subject; an idea which needs to be challenged. "I'm trying to shift the notion that portraits are about representing someone. It's more about building trust," he says.
"Art should be challenging, but in a respectful space where questions can be asked and curiosity can be presented."
Details: salafestival.com

Subscribe now
Subscribe Today!
Subscribe to South Australia's biggest-selling magazine, showcasing the best of Adelaide and South Australia.
From only $9 per issue
including free delivery to your door.