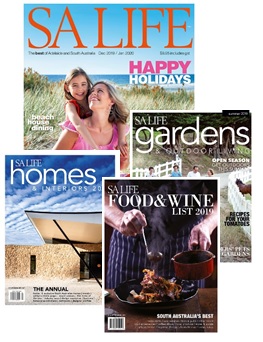 SALIFE is South Australia's biggest selling magazine, published on the first Thursday of each month. Now with 15 years in print, SALIFE continues to showcase the best of Adelaide and South Australia.
As a subscriber you'll enjoy:
– Seeing inside the state's most spectacular homes and gardens,
– Being inspired by some delicious recipes,
– Looking at the latest in fashion and accessories,
– Exploring the performing and visual arts scenes,
– All this and more delivered to your door!
A SALIFE subscription makes the perfect gift any time of year, just select the gift option when purchasing your subscription.
Complete the details below and your subscription will start from the next issue of SALIFE.