October 15, 2019
Arts & Culture
From Country to Canvas
Indigenous artists in the state's remote north-west are finding new ways to connect with ancient country.
For the Anangu people of the Central Western desert, life revolves around the tjukurpa — a foundation of their society. Tjukurpa refers to the creation period and encompasses religion, law and moral systems. It defines the relationships between people, plants, animals and the land. Tjukurpa also refers to the passing on of knowledge to young men and women.
Each weekday, more than 20 artists gather at Ninuku Arts to paint their tjukurpa stories on canvas, while gossiping, socialising and singing. Some of the more experienced artists are internationally renowned.
Situated in Kalka, one of the most remote desert communities of the western Anangu Pitjantjatjara Yankunytjatjara (APY) Lands, the art centre is 2000 kilometres from Adelaide by road, and 700 kilometres south-west of Alice Springs. 
Ninuku Arts manager Mandi King says the centre is more than just a painting studio, but a key means of employment and socialising. "Community art centres give artists the flexibility to generate income for themselves, while also maintaining their cultural obligations," Mandi says.
The artists here have been painting on canvas for decades. "Some artists are in their late 80s and still want to come to work every day. For most of them it's because they still have a story they want to tell," Mandi says. "Ninuku is also the social hub of the Pipalyatjara and Kalka communities, which is important."
However, the large pieces require many hours of work and, as the established artists grow older, it can be difficult for them to complete the paintings. Meanwhile younger artists can find such a large, blank canvas intimidating. "Many art centres are struggling to find new ways of capturing the young people in communities," Mandi says.
Being a graduate of the JamFactory glass studio, Mandi envisaged a way to combine desert painting with the bite-sized canvases offered through glass art. "There's nothing more exciting than hot blown glass," she says.
For this new project, glass starter bubbles were sent from JamFactory to Ninuku Arts, where the artists used enamel paint to portray smaller components of their larger tjukurpa stories — birds, animals, earth and flora. The glass was then sent back to Adelaide to be blown into vessels by associate artists at the JamFactory glass studio.
"It's a very cool process that actually enables the paint to be captured inside of the glass, not on the surface," Mandi says. "It's a technique not used widely by glass artists."
The artists were astonished to see photos of their completed work, which had been blown into vessels of vibrant colour. Mandi had artists lining up wanting to have a go at this new, exciting art form. "It's definitely captured their imagination," she says.
"The young artists have picked up the techniques very quickly. They have collaborated with the older artists, helping one another, telling their stories and putting the paintings down onto glass," she says. 
The work from this unique partnership spanning 2000 kilometres has been showcased in The Ninuku Project exhibition at JamFactory, as part of the 2019 Tarnanthi Festival.
"I hope people are surprised, and that it sparks their curiosity into the world of Indigenous art because it is endlessly fascinating," Mandi says. "The exhibition may inspire people to learn more about indigenous art, Western desert art and the people who make it."
Another exhibition to come from Ninuku Arts is The Aralya Project, in which 20 artists travelled from their communities on an expedition to paint at important tjukurpa cultural sites called Aralya and Kuntjanu.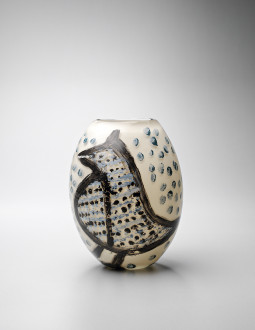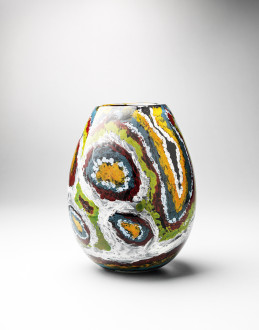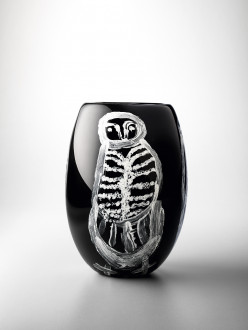 Ninuku Arts painters collaborated with the JamFactory glass studio to produce work for The Ninuku Project. These include Tjulpu by Nyanu Watson of the Pitjantjatjara people (left), Pukara by Jimmy Donegan of the Ngaanyatjarra people (middle) and Tjulpu by Nyanu Watson (right). Photographs: Grant Hancock.
The intergenerational trip was led by healer and cultural leader Josephine Mick, whose family are traditional owners of the Kuntjanu homelands, where the camp was based. Using wide open country as their studio, artists young and old created major collaborative works of art while recounting their tjukurpa stories.
Many members of the group were accompanied by children and grandchildren, some of whom were experiencing the sites for the first time. 
After breakfast each morning, vehicles carried the artists off-road to caves, rock formations and other sites, where Josephine and elders would sing, before returning to the camp to paint in the afternoon sun. Nights were spent making baskets and cooking kangaroo and damper on coals.
During the 1980s, local Indigenous people moved into communities, leaving behind their homeland and sacred tjukurpa sites. The Aralya Project gave younger generations the chance to experience these remote sites for the first time.
"It was special to take Ninuku artists to my home," Josephine says. "This was the first time Ninuku artists were doing this type of project."
"When we were painting on country, it was making everyone's spirit happy and strong. I'm lucky that my children and grandchildren know their country. Kuntjanu and Arralya is a part of them like it is for me."
The resulting artwork will be on display in The Aralya Project exhibition at Adelaide College of the Arts.  
This story first appeared in the October 2019 issue of SALIFE magazine.

Subscribe now
Subscribe Today!
Subscribe to South Australia's biggest-selling magazine, showcasing the best of Adelaide and South Australia.
From only $9 per issue
including free delivery to your door.