Fashion: Neutral gear
Shift into neutral gear and embrace breezy cottons and linens to soak up the long, hot days and warm nights.
JG General Melle pant, $260, Hammock & Vine shirt, $195, from Fashada; Waist the Day belt, $142, from Elle & Elka; Helen Kaminski Bianca visor, $194.95, from Adelaide Hatters; Wren XL tote, $369, from Oroton.
Binny Poppadom dress, $419, Angels Whisper belt, $25, from Elle & Elka.
Trelise Cooper Hot Puff dress, $299, from Elle & Elka; Quilted fixed tri bikini top, $119.95, Quilted hipster bikini pants, $69.95, from Seafolly Rundle East; Ribbon cuff, $149, from Oroton.
Elliot blazer, $128, Lola pant, $125, from Outside Square; Trelise Cooper Like a Tiger belt, $142, Earrings, $59, Choker, $65, from Elle & Elka.
Wolfgang Las Palmas fray blouse, $229, from Elle & Elka; Kinney Lola short, $179.95, from Living by Design; From the Outside hoop/cuff, $459, from Cinquante.
Kinney Mason top, $219.95, from Impulse Boutique/Lumiere Collective; High waisted tapered linen pant, $299, Alice mini chain wallet, $189, Elsa sunglasses, $235, from Oroton; Angels Whisper Belt, $25, from Elle & Elka; Crinkle cut drop earring, from $159, from Cinquante.
My Heart's Desire gown, $1049, from Carla Zampatti Burnside Village.
Double breasted shirt dress, $399, from Oroton; Golf hat, $59.95, from Adelaide Hatters.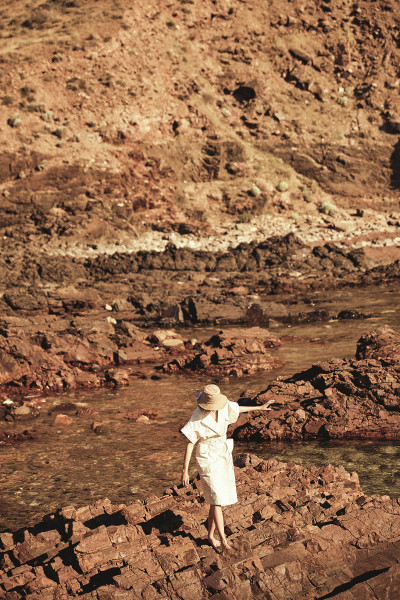 Kinney Rou slip dress, $249.95, from Living by Design; Bamboo cuff, $99.95, Bamboo three-layer cuff, $119, Bamboo square studs, $69.95, Bamboo fine ring, $49.95, from Oroton.
STOCKISTS
Adelaide Hatters adelaidehatters.com.au
Carla Zampatti carlazampatti.com.au
Cinquante cinquante.com.au
Elle & Elka elleandelka.com.au
Impulse Boutique/Lumiere Collective impulseboutique.com.au
Living by Design livingbydesign.net.au
Seafolly seafolly.com/au
Oroton oroton.com
Outside Square outsidesquare.com.au
Model Tayla Shaw at Finesse Models
Post production Anastasiia Petrova
This story first appeared in the Dec 2019/Jan 2020 issue of SALIFE magazine.

Subscribe now
Subscribe Today!
Subscribe to South Australia's biggest-selling magazine, showcasing the best of Adelaide and South Australia.
From only $9 per issue
including free delivery to your door.