Gifts that grow indoors
Our renewed interest in gardening makes plants and plant-related products the perfect gift, even for those hard-to-buy-for people.
There is always a garden gift solution, no matter what size the receiver's living space or level of plant expertise. For a novice gardener, a plant that can survive and thrive with little attention is ideal and provides a perfect entree to building gardening confidence. Plus, there is a fair chance it will still be alive when you next visit! While green thumbs are always pleased to receive anything that grows.
Indoor plants continue to be popular across all ages. Not only is an indoor plant a great looking gift, it also provides a raft of other benefits, from helping to reduce stress levels, boosting productivity and improving air quality by removing volatile organic compounds. (Feel free to include those details in the gift card!)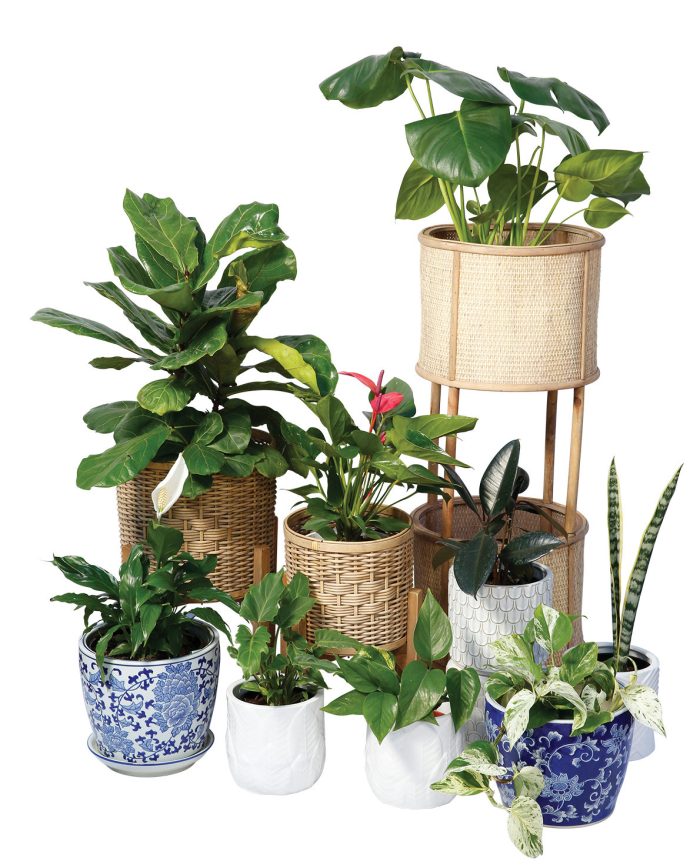 There is a huge range available, so here are a few of my top hardy indoor plant performers:
Pothos, also known as devil's ivy, is a versatile vine. Left alone, it can spill over the pot, table and across the room. Pothos looks stunning tumbling down a bookcase. Alternatively, add a totem and tie it up for a vertical treat. Pothos comes is a variety of colours and even patterns. Great for home and office alike.
Philodendrons have been a firm indoor foliage favourite for years. "Xanadu" is a brilliant clumping plant with a lush halo of lobed leaves that tend to grow out rather than up. The iridescent lime green, lanceolate leaves of "Goldilocks" are absolutely brilliant in adding a striking leaf colour and form contrast. Put a bow on this one!
Sansevieria or mother-in-law's tongue is practically indestructible. Its thick, upright spear-like leaves are instantly recognisable and work so well with modern decor. Sansevieria trifasciata is the most common, however there are many other forms you can seek out for an indoor plant buff, including the dwarf form Sansevieria hahnii, the pencil-thin-leaved Sansevieria schweinfurthii or the superb Sansevieria cylindrica producing long cylindrical spikes that rocket from the pot.
Dracaena adds height and structure and loves brightly lit spots. Dracaena marginata is a tall, multi-stemmed plant with a thicket of long thin leaves at the end of each branch. If yours is growing too long and lanky, trim off a stem or stems at any height to encourage side branches and more growth. Don't waste the trimmings, they can be simply pushed back into the pot to grow and fill up the container, or start up a new pot with this super easy beauty.
Ficus have come a long way since we all grew weeping figs back in the 1980s. Ficus lyrata or the fiddle leaf fig has been incredibly popular over the past few years. Its upright growth and large glossy leaves make it a perfect accent plant. Rubber plants (Ficus elastica) are great for any beginner. "Burgundy" with its almost black foliage or the pink, cream and green variegated "Tineke" are just a few of the many varieties available.
Flowering indoor plants tend to need more light than their foliaged cousins to help promote a head of bloom. Growing in a low light spot is generally the reason an indoor plant can be too shy to flower.
Some of the more popular and easy-to-grow indoor flowering varieties include:
Phalaenopsis, or moth orchids are hard to beat as a specky present. Blooming a treat and available in an array of both solid and mixed colours, it doesn't seem to matter how many someone already has, an extra plant is always enthusiastically received. Flowering for many months, cut the stalk off at the plant base once blooming finishes. This is part of a process to encourage the next phase of seasonal flowers and keep the plant productive for years.
Spathiphyllum, the peace lily, is a must-give indoor plant. The brilliant white spathes shining above a forest of dark green foliage are their crowning glory. A wonderfully easy to care for and adaptable plant, it even blooms in relatively low-light spaces. Another winner for home and office.
Anthuriums, with large green leaves and stunning waxy red or orange flower bracts, look so perfect you could be excused for thinking they are artificial. Super popular, this is another widely grown indoor plant for its beauty and resilience.
Creating an indoor plant gift pack is another way to help
grow your green present. Here are some suggestions for
items to include:
Fertiliser: indoor plants need feeding. A 500mL bottle of Thrive Indoor Plants Liquid Plant Food or Thrive Indoor Plants & Ferns Liquid Plant Food Drippers for a month-long feed, will ensure they get the nutrients they need
Watering can: a small 1 litre watering can is ideal to carry around the house to top up dry plants or apply a welcome feed.
Soil moisture meter: overwatering and underwatering are the biggest killers of indoor plants. An alternative to putting your finger in the potting mix to test is a soil moisture meter. Push the probe into the mix and the reading will indicate what watering, if any, is needed.
Decorative pot: Most plants purchased from the garden centre are sold in their plastic growing pot. Placing plants into an outer decorative pot provides a number of benefits. Firstly, it hides the growing pot and looks so much more attractive, plus the growing pot can be removed, watered and drained to avoid any overspills or damage to furniture. Choose a decorative pot that best suits the home decor and is large enough should the plant need repotting to a bigger plastic container.
Pest control: while selecting hardy plants, issues such as mealybug and fungal gnats may occur. Eco-Neem is a plant-based organic insecticide perfect for managing a host of unwanted pests.
Helpful hints: adding some tips and tricks to growing indoor plants on a card attached to the plants is a wonderful way to both personalise your gift and offer some vital tips for success.
The question of where to go for plants, products and advice in selecting that lovely, living gift is easy, just drop into your local garden centre. They may even wrap it for you. Then wait to see the look of sheer delight such a thoughtful and heartfelt Christmas present can bring both giver and receiver.
This story first appeared in the December 2021 issue of SALIFE magazine.
Subscribe now
Subscribe Today!
Subscribe to South Australia's biggest-selling magazine, showcasing the best of Adelaide and South Australia.
From only $9 per issue
including free delivery to your door.