New roots in Windspiel Garden
With years of dedication, a weedy, sprawling Adelaide Hills property has been transformed into a lovely landscape.
Gisela McMichael titled her Upper Sturt landscape the Windspiel Garden, which translates from German to wind play or wind chime. Just like the ornamental instrument, the McMichael garden is punctuated by the natural elements of wind and water, which make their own song. 
The sprawling landscape also speaks of Gisela herself. "I always had an affinity for the outdoors, with all the plants and beauty," she says, looking over the textured 2000sqm landscape from a large living room window. "I must have spent 5000 hours in the garden over the years."
Gisela is originally from the German spa town of Baden-Baden located in the Rhine Valley. This community is known for its close proximity to the famed Black Forest and opulent neo-renaissance architecture lining its cobbled streets. Gisela's Adelaide Hills garden, which she has been working on for over a decade, reflects both the rugged wilderness and refined beauty of her birthplace and her new life in Australia.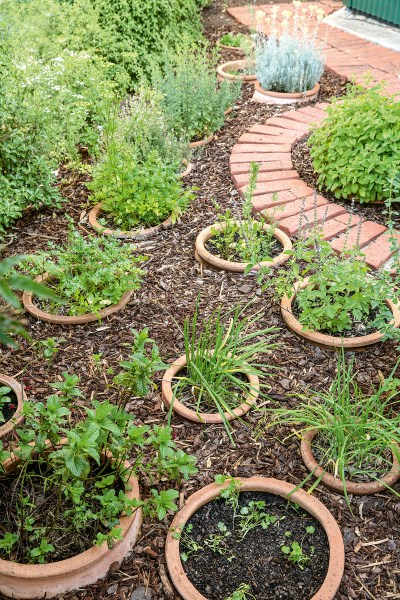 Windspiel is separated into an upper Mediterranean garden filled with native Australian plants and succulents, and a lower terraced garden with decorative flowers and trees. Spread across the two are alfresco dining areas, a winter creek, an iron gazebo, a pond and the "Taj Mahal of cubby houses". The upper garden is Antipodean and mirrors her new home, while the lower exudes European luxury. 
Gisela is not a trained landscaper but first experimented with plants while owning a bed and breakfast in Semaphore – she even scooped up a Port Adelaide Enfield Council prize for best business garden. But, when she moved into her husband Daniel's property in 2008, she truly found her stride. She saw a mountain of potential in the steep slopes and bare dirt. 
She formed a vision for the space after evaluating the challenging lay of the land. "The weeds were at least two feet high and there was very poor soil," Gisela says. "When you think about the location, we're on top of the ridge – so over thousands of years all the good stuff's washed down in the valley and what you're left with is clay, rubble and soil. So that's pretty difficult."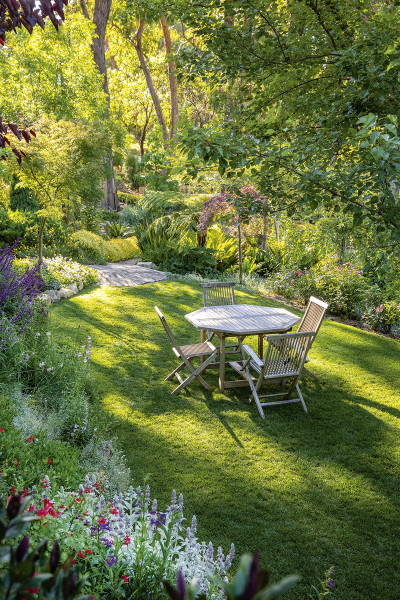 "The first job was paving around the house and in the driveway because we didn't want to get the mud into the house." After the foundations were laid, and the mulching process reworked the ground, Gisela planted a weeping birch tree followed by a Manchurian pear and unique Euphorbia tree along the driveway. These were the beginnings of the garden as it is today.
To combat the steep slope of the lower garden and prevent injury, various terraced levels were constructed by landscape architect Ben Ellickson in 2011. Retaining walls were installed as well as concrete and wooden sleepers, which zig-zag across the lower garden. Carpet roses and deciduous trees were planted with the help of gardener Graham Hill for colour and function, while a screen of fragrant star jasmine was erected to offer privacy from the main road.  
A tiered vegetable patch is located at the bottom of the lower garden, past various fruit trees, including plum, lemon and dwarf citrus. The patch is currently filled with strawberries, rhubarb and chilli, but usually features all-weather classics like cabbage and tomato. Gisela says you can often find her carrying a basket of freshly-picked vegetables up to the house to make a salad, but says the patch also harks back to her first horticultural memories as a child.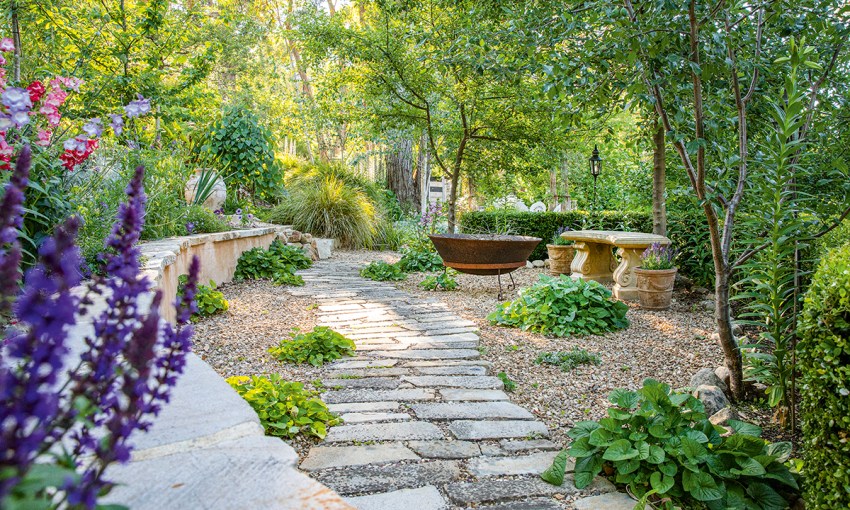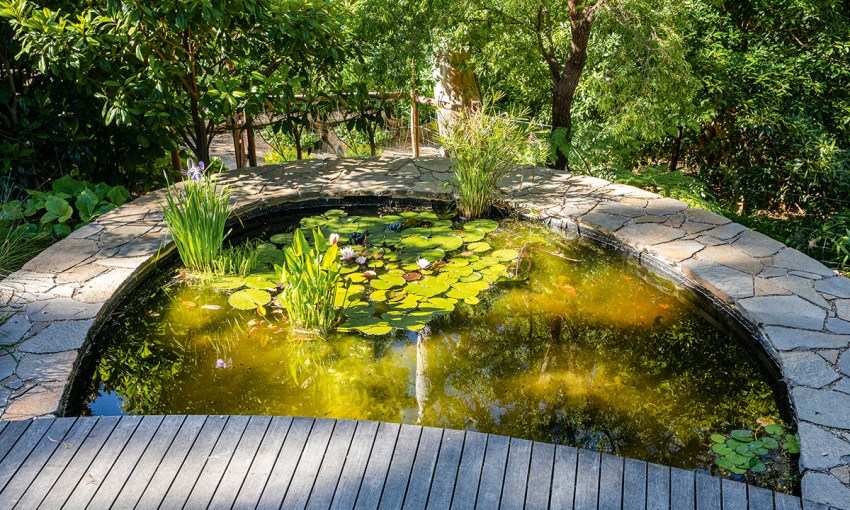 "I had a little plot where I was gardening," Gisela explains of her Baden-Baden home when she was younger, "and I took some Alpine strawberries from the local forest and I planted those, or I salvaged an old geranium branch that was thrown on the compost."
Gisela's 10-year-old son Henry has a mini-vegetable patch adjacent hers, which is currently overgrown with snow peas. Henry's elaborate cubby house, which resembles something from his favourite Andy Griffiths treehouse books, is a whimsical timber structure with geometric windows and a workbench.
On a ledge outside his cubby house is a line of his 30 bonsai, which includes Conifer and Buxus species. Meadowy plants at the front of the tiny house blow in the breeze; they were planted to cultivate the eco-system and keep the garden's insects happy.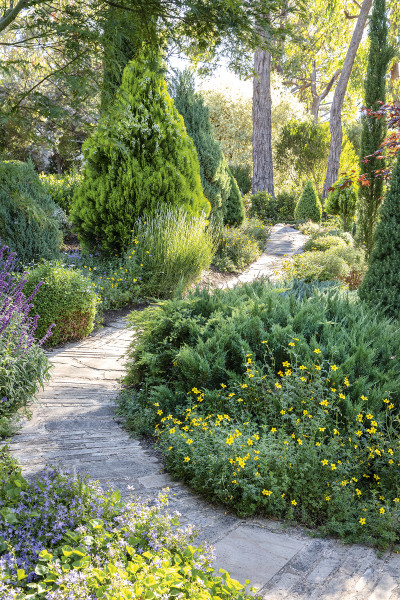 Gisela says she derives a lot of joy from seeing her son turning over rocks to inspect scorpions or worms, or "getting dirty" in the mud. Henry goes to a school where playing in nature is encouraged; his parents believe it's important he connects to the natural world. 
"We need to raise the next generation to love gardens, to love nature, to love your planet Earth, because they will be the protectors and the custodians for future generations," Gisela says. 
Moving past the herb garden, which has mint, basil and thyme sprouting from clay pots, we find the beginnings of the winter creek which connects the lower and upper gardens. To conserve water, Gisela built a flowing creek from garden stones to capture rainwater from the road and redirect it to the plants below.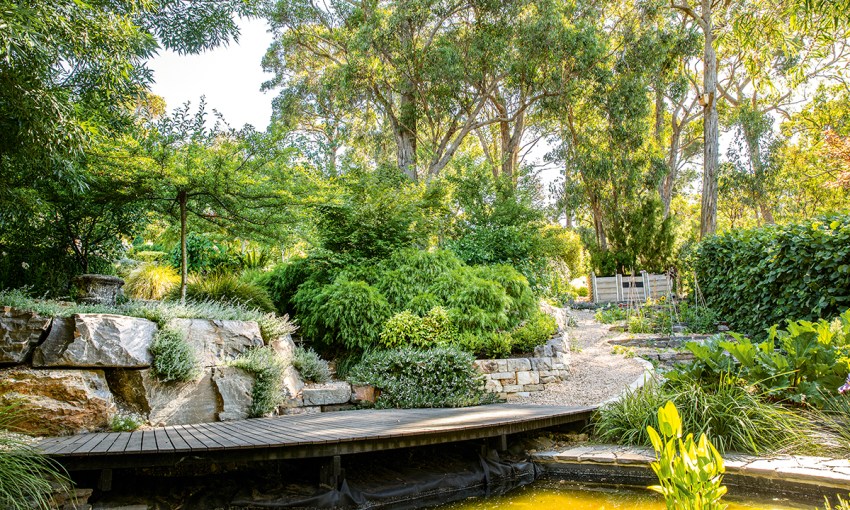 The winter creek snakes through the top garden, surrounded by Australian native cacti, succulents and brushes. These plants were chosen by Gisela to lessen the blow of water bills and work in conjunction with the native environment. 
"Natives are very important," Gisela says, while combing her hand through a lustrous westringia bush. "Native gardens don't have to be boring; you can have lush-looking colours and be water-wise at the same time." 
Gisela excitedly points to an array of hyacinths and donkey orchids dotted throughout. A new edition to the top landscape, a hedge of dwarf eucalyptus trees, was planted to keep the succulent section separate from the other plants, she says.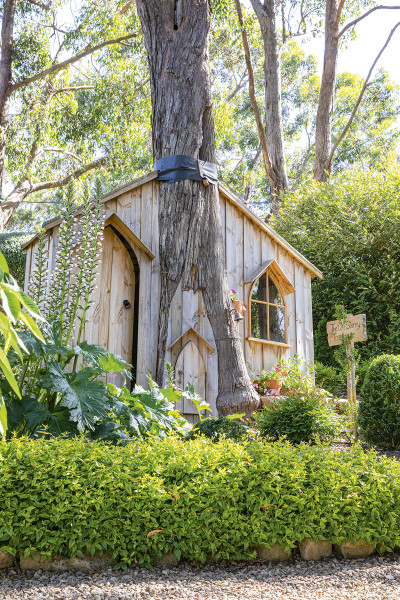 "I've never been a person who holds onto something and can't let go," Gisela adds. "Whether that's leaving Germany, starting a new life here, or setting up in Semaphore and coming here, I must try something new.
"When I met Daniel, I knew life wasn't going to be boring. That's been the case in the past 10 years."  
Windspiel Garden will be open to the public on Saturday, October 31 and Sunday, November 1, from 10am to 4.30pm as part of Open Gardens SA. Visit opengardensa.org.au for more information.  
This story first appeared in the Autumn 2020 issue of SALIFE Gardens & Outdoor Living magazine.
Subscribe now
Subscribe Today!
Subscribe to South Australia's biggest-selling magazine, showcasing the best of Adelaide and South Australia.
From only $9 per issue
including free delivery to your door.