Striped roses: A work of art
Love them or loathe them, these sensational striped and hand-painted roses can really add that "wow" factor to your garden.
You either like striped, coloured roses or you don't!
Undeniably, striped roses stand out and make an excellent feature plant, whether they have pinstripes, big bold splashes of colour or streaks, the striped rose is a favourite among many rose lovers.
Not only is every flower different, but every petal is a work of art. Once you begin, it is easy to start a whole collection of striped roses in your garden. They have stunning colours, look very different from other roses and the modern varieties are very easy to grow. There are many different cultivars around the world and, thankfully, some wonderful collections have been imported to Australia over the years, most notably from France, USA and New Zealand.
The old-fashioned striped or hand-painted roses came from having striped colours in their ancestry. The first striped rose was Rosa gallica versicolor (also known as "Rosa Mundi"), which is a sport or mutation of R. gallica officinalis, a deep pink species or wild rose. Rosa gallica versicolor is the oldest and best known of the early striped roses and was discovered in 1581. It has vibrant pink and pale pink stripes with a strong fragrance and blooms in spring then sets hips.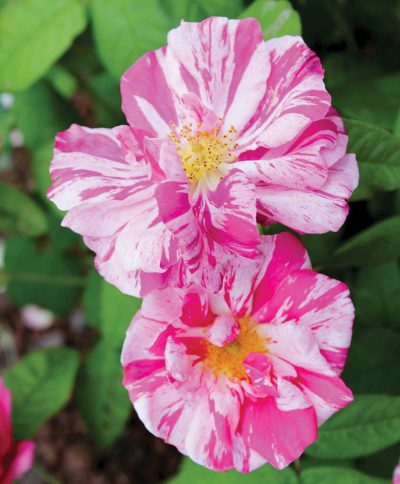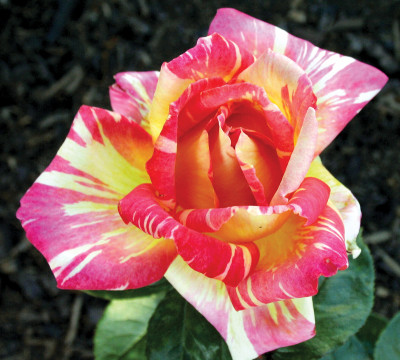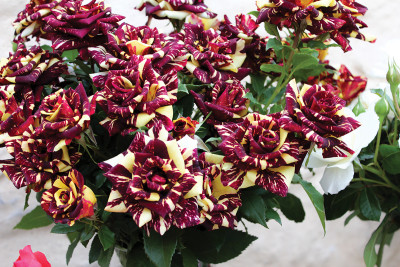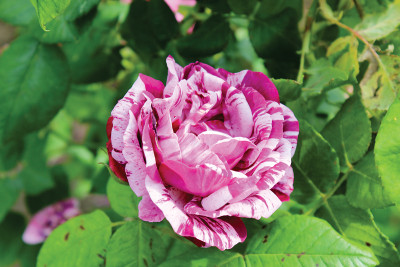 Some of the early introductions History shows that striped roses were regularly introduced over the past century, with one dating back to the 19th century.
Commandant Beaurepaire (1864) A fragrant pink, purple and white striped hybrid perpetual bred by Moreau-Robert in France.
Variegata di Bologna (1909) White Bourbon rose with cherry red stripes and strong fragrance.
Honorine de Brabant (1916) A fragrant Bourbon rose featuring cupped pale pink blooms with violet stripes.
Ferdinand Pichard (1921) This hybrid perpetual was bred in France and became a collector's rose and important for breeding as it had repeat flowering ability. Semi-double carmine flowers are striped with magenta and white and have a raspberry and damask perfume. After its first crop of blooms, it flowers again in small flushes in summer.
Candy Cane (1959) A pink blend climbing miniature bred by Ralph Moore in the USA.Candy Stripe (1964) A sport introduced by Edward McCummings. A fragrant hybrid tea that has large, pink and white striped blooms.
Harry Wheatcroft (1972) A large-flowered hybrid tea sport with red and yellow stripes.
Stars 'n' Stripes (1976) An eye-catching, repeat-flowering, red and white miniature bred by Ralph Moore using "Ferdinand Pichard" as a parent.
Abracadabra (2002) Deep red petals with lemon yellow. Height 1m but sometimes
lacks vigour.
Ralph Moore was the first to succeed in transferring the stripe gene of "Ferdinand Pichard" to his miniature roses. He played an important role in the popularisation of miniature roses, introducing over 500 varieties. His breeding program produced striped roses including "Strawberry Swirl", "Earthquake" and "Painter's Palette".
Then other rose breeders succeeded with their own new releases, namely Sam McGredy IV in New Zealand and Tom Carruth and Dr Keith Zary in the USA.
Rose breeders today want continuous flowering with blooms of good shape and form on healthy plants. This also applies to their efforts with striped roses. Rose hybridising yields offspring of considerable variation, not only in growth habit but also in colour combinations, shape and number of petals.
A passion for rose breeding and hand-painted roses
The "handpainted roses" are a special strain developed by renowned rose breeder Sam McGredy IV, who bred some great roses in his 50-year career. Born in Northern Ireland, the late Sam McGredy IV was the last of four generations of McGredy rose breeders. With a talent for innovation and fashion, his first priorities were colour and plant health but he was also looking for novelty.
Sam became famous for what he called his "hand-painted" roses, these are roses of one colour splashed with another. His first was "Picasso", released in 1971. The red petals are streaked and edged with white.
After migrating to New Zealand in 1972, with his breeding stock, Sam continued hybridising and releasing new roses which caught the attention of the rose world. He released the multi-coloured Floribundas "Old Master", "Maestro", "Eye Paint" and "Regensburg". The hand-painted hybrid teas included "Derek Nimmo" and "Candella".
Ralph Moore's "Stars 'n' Stripes" was the source of Sam's striped strain which all started from just one season of pollen from "Stars 'n' Stripes". From this came miniatures "Hurdy Gurdy" and "Roller Coaster" and large roses "Rock 'n' Roll" (1983), "Tropical Sunset" (1988) and "Oranges 'n' Lemons" (1994). These striped roses are regarded as some of his best achievements.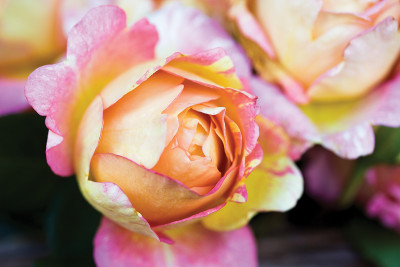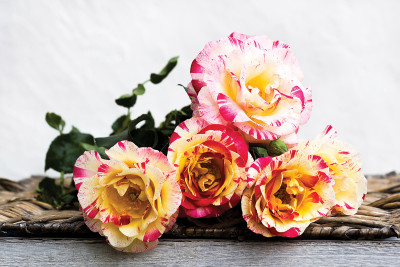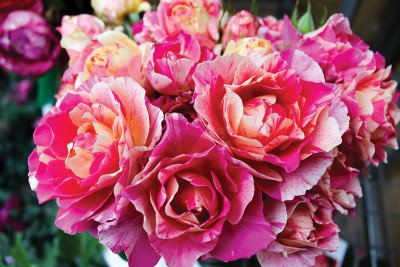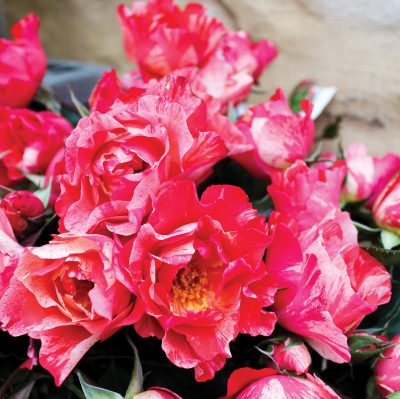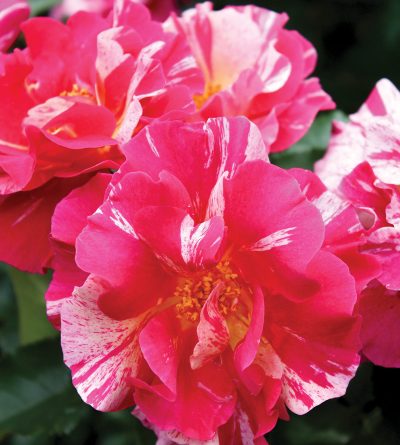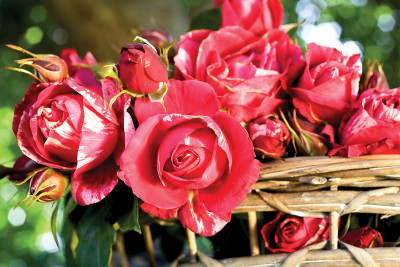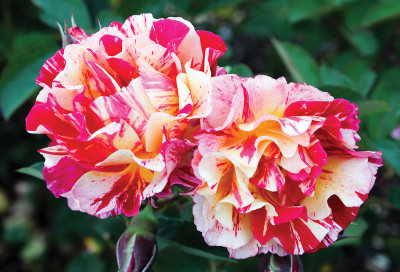 The Delbard Painter's Series from France
In the 1990s, French Rose Breeder Henri Delbard was inspired by the great impressionist painters to create a unique style of striped rose. Striped and swirling with colour and fragrance, these free-flowering roses have a good growth habit and are reasonably disease tolerant, easy to grow and well-suited to our conditions. The novelty factor proved to be popular and there are now eight roses named after painters in the Delbard Rose Collection, which is available from Wagner's Rose Nursery.
A decade ago, Brian Wagner wanted these unique roses to become better known. At the end of the season, he decided to give his leftover bare-rooted plants to members of the Rose Society, asking them to grow them and offer feedback. What a discovery! The members were utterly astonished and delighted with these very distinctive and quirky rose varieties. In fact, these plants still look amazing in our gardens.
Claude Monet Hybrid tea (HT) featuring large double flowers striped with yellow, pink, red and orange. Bush to 1.3m.
Henri Matisse A fully double floribunda in deep pink to medium red with white stripes and a mild fragrance. Height 1m.
Edgar Degas A strong shrub rose featuring hot pink and pale pink stripes on a disease-resistant bush. A sport of "Henri Matisse". Bush 1.2m x 1.2m or trained as a pillar or on trellis to 2m high.
Maurice Utrillo Prolific flowering floribunda in light red and cream with a slight fragrance. Growth to 1.2m.
Alfred Sisley A very pretty shrub rose with orange and pink stripes, yellow reverse and a mild fragrance on a compact bush to 80cm.
Paul Cézanne Striped deep coral and yellow HT blooms with a moderate cinnamon and citrus fragrance. Height 1m.
Grimaldi Clusters of semi-double flowers in salmon pink splashed with lighter pink and white. Height 1m.
Camille Pisarro Floribunda featuring masses of yellow roses striped with bold red, pink and white. Height 1.2m.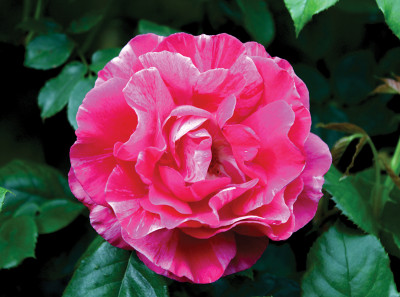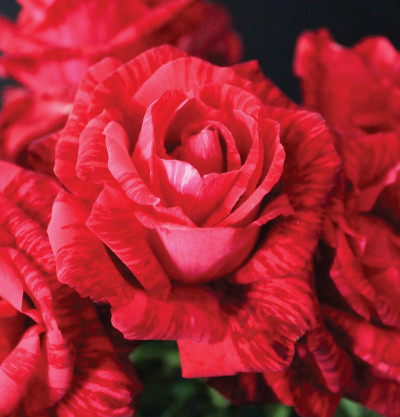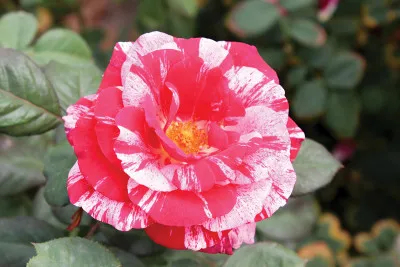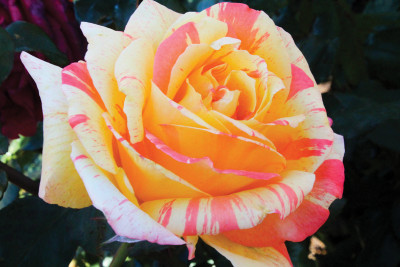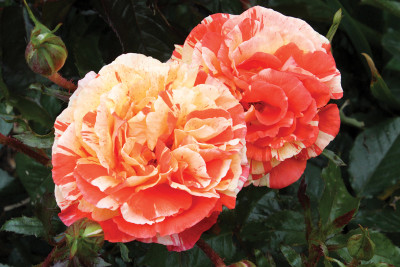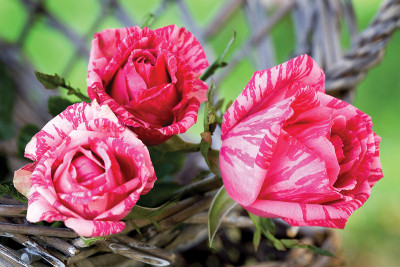 Some other popular striped roses include:
Guy Savoy CLB Named after the famous French Chef. This climber thrives in Australian conditions. Ideal for pillars and fences with growth to 3m. Magnificent blooms and beautiful perfume, glorious colour and repeat flowering.
Red Intuition An award-winning, classic HT in scarlet and cardinal red stripes. Upright vigorous growth to 1.5m and suitable as a cut flower.
Pink Intuition A sport of Red Intuition. Identical growth habit but features a rich palette of pink shades.
Oranges and Lemons Dazzling bright orange and yellow stripes. Large double flowers on a hardy, disease-resistant bush to 1.5m.
Scentimental An intensely fragrant rose with red and white swirls. Bushy, free-flowering plant grows to 1.3m.
Tropical Sunset Yellow, high-centred Hybrid Tea with orange-red stripes, light yellow reverse, ages to lighter shade. Full large blooms borne mostly solitary with a fruity, spicy fragrance. Blooms in flushes.
Cabana This popular rose has bright pink and pale-yellow colouring, spicy scent, glossy foliage and upright growth to 1.6m.
Frida Kahlo A vibrant Floribunda in bright pink, red and yellow splashes of colour with a light fruity scent. Growth to 1.2m. Silver Medal in 2020. 
Look out for these recommended roses at specialist rose nurseries and good garden centres. 
This article first appeared in the Winter 2021 issue of SALIFE Gardens and Outdoor Living magazine.
Subscribe now
Subscribe Today!
Subscribe to South Australia's biggest-selling magazine, showcasing the best of Adelaide and South Australia.
From only $9 per issue
including free delivery to your door.