February 24, 2022
Gardens
Super shrubs for SA gardens
Tolerating our varied South Australian conditions and harsh summers, these six shrubs will continue to reward you year after year.
1. Duranta repens "Geisha Girl" or pigeon berry
Duranta is a long-flowering, tough evergreen hedging or specimen plant that flowers for several months and can be clipped and shaped to grow in many situations in the garden. From full sun to part shade, it can grow up to three metres tall and wide if left unpruned but makes a great topiary or standard in both pots and garden beds. The rich purple flowers with a white edge are not only incredibly showy but also have a beautiful chocolate scent and are highly attractive to not only butterflies and honey bees but also the native blue banded bees too. Due to their fast growth rate and thick habit, duranta make excellent screening plants for large areas.    
2. Murraya paniculata orange jessamine
This medium-sized shrub with its lush, glossy foliage is a stand out in spring with newer foliage coming through bright, light green, while older foliage is darker in colour. Beautiful white scented flowers appear over a long period from spring to autumn. The plant prefers a full sun to part shade position in a warm frost-free spot. Great for pots and brilliant for hedging as they keep a lovely compact growth when clipped and can be kept at one metre high and 80cm wide or left to grow to 2.5m x 1.2m. The scent of the flowers is intoxicating and they're a beautiful crisp contrast to the green foliage. Spring and summer are the best times of the year to plant these so they have time to establish a root system before winter.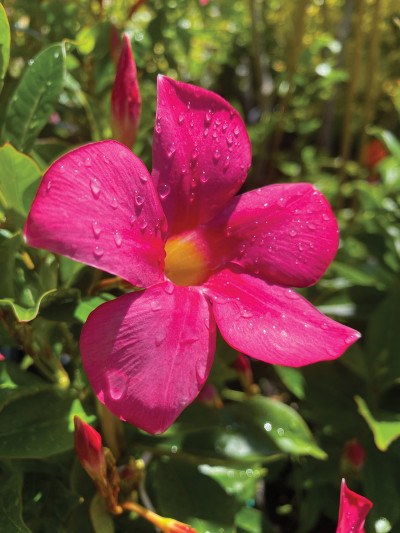 3. Mandevilla
There are many species within the mandevilla genus, some are commonly known as Brazilian jasmine and are available in red, pink, white and yellow. They can be grown as bushy spillers over a retaining wall or as climbing plants, to screen or just as a feature up a trellis. They grow well in warm sheltered positions in the garden and are great for pots as well as in the ground. Regular pruning will keep them nice and compact but, if you let them go without much clipping, they will either climb or spill over the side of containers. My favourites are "Forever Red" and "Tourmaline Pink" varieties. They like a minimum five hours of sunshine to perform at their best and deep watering during long hot periods in summer. 
4. Dwarf crepe myrtles lagerstroemia indica
These are spectacular summer/autumn flowering shrubs, available in mauve, pink, red and white. My favourite is the "Enduring Summer" red variety, of which I have three in my garden. It is an early flowering form that can bloom from late November through summer and right into autumn. They are drought-tolerant, needing just a deep watering in long periods of dry heat. Masses of blooms with a paper-like texture are a stand out on these compact plants. Growing to around 1.2m tall, dwarf crepe myrtle doesn't require any pruning to maintain a lovely shape. These are real eye-catchers in the garden or on the patio. 
5. Hydrangea
Hydrangeas are beautiful shrubs that add lovely colour to shady areas in the garden. Available in blues, reds, pinks, purples and white and even two-tone shades in both traditional and lace cap varieties. They are great planted as a backdrop to smaller plants and also perfect in pots under pergolas and in east facing spots in the garden. Being winter dormant, I recommend regular feeding in early spring to early summer and a light prune in early autumn to maintain shape and habit. 
6. Bambino bougainvillea
These are a collection of bougainvillea selected for their compact growth habit and superior long flowering. They are great for large pots in hot sunny positions in courtyards and verandahs where there is plenty of sun. Easy care with minimal water required once established, they give many months of bright bold colour. They look fantastic up against rendered or brick walls in pots and are available in a multitude of bright colours from red and pink to purple, orange and white. Give support with a stake or frame or trim and prune to a desired shape such as a cone, pillar or umbrella. Bambinos generally need little care other than an annual prune after the flowering season.
This article first appeared in the Summer 2021 issue of SALIFE Gardens & Outdoor Living magazine.

Subscribe now
Subscribe Today!
Subscribe to South Australia's biggest-selling magazine, showcasing the best of Adelaide and South Australia.
From only $9 per issue
including free delivery to your door.