June 24, 2020
Feature Homes
Feature home: Creating traditions
The biggest compliment James and Shane Speechley-Crowley receive is when people enquire about their "renovation".
The traditional homes along the streets of Colonel Light Gardens have heritage, character and look from the exterior as though they've remained largely untouched since the era in which they were built.
While all the neighbours have properties built in the 1920s, James and Shane Speechley-Crowley finished their new build just over a year ago.
"We didn't want this to be a pretentious or fussy show home, so the exterior starts the story about this being an older-style home with character that would grow and change with us," James says. "It was important for us that it was consistent and blended in with the area."
Step inside the front door and the interior seems just as traditional, until you look a little closer.
James and Shane are also seemingly a traditional family — two parents, one baby, a cat and a picket fence. But their route to parenthood was a somewhat modern interpretation.
Being a same-sex couple, James and Shane, who have been together for 13 years, began their journey to becoming parents, researching fostering, adoption and surrogacy about five years ago.
When they began looking into ways to expand their family, adoption wasn't available to same-sex couples in the state, but James and Shane, along with other couples and members of the political community, began rallying for a change to the law. Even though it's now legal, this wasn't the road they ultimately took. Their son Spencer was born in Canada six months ago through surrogacy.
"The whole journey in Canada was lovely — it was really relationship-focused," James says. They bonded almost instantly with their egg donor and surrogate, and spent a couple of months in the country with James's parents once their baby was born.
Spencer then came to Australia, arriving to a home designed specifically with him in mind.
The result is beautiful, but it wasn't a smooth road to completion. The construction company the couple enlisted dissolved just after the home was finished, and a loss of staff along the way meant the couple stepped in to help project manage the build.
In what could have been a disastrous situation, James and Shane took the reins with plenty of experience in the area. Together, the couple have built, renovated and developed many properties so the process was second nature.
In the past, they've designed with a lean toward what would perform best in the market, coupled with more contemporary tastes. But this build was different — they knew it would be much longer-term with baby Spencer on the way, and needed to be much more family-friendly.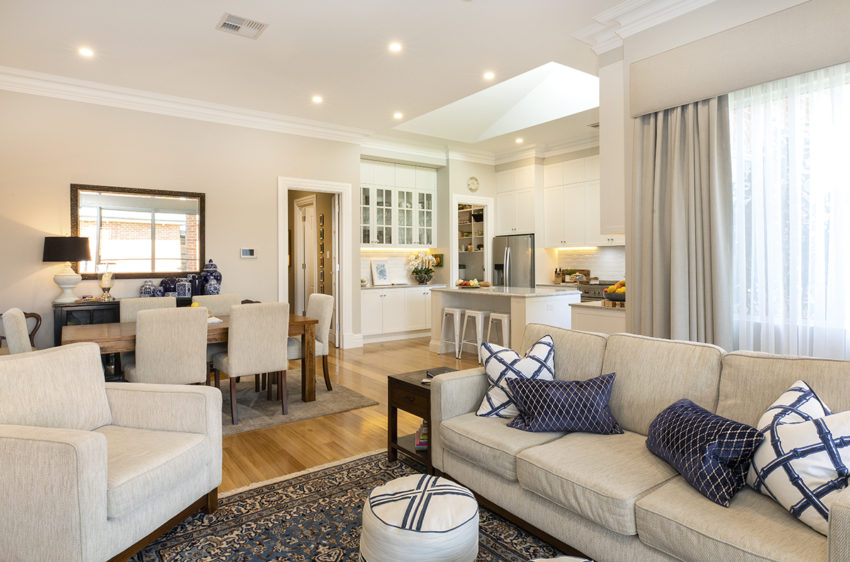 "If you were to look at our homes over the past 10 years, you'd initially see homes with ivory-coloured carpets, natural white walls and minimalist design. Over the years, our design style has evolved into a classic, more practical aesthetic," Shane says.
Being in a state heritage listed area, the couple had no choice but to be traditional on the exterior, and chose to continue the theme indoors.
If you were told that one of the homes on the couple's street had been completed just a year ago, you would have a difficult time discerning which it was. "We love it when people come in and ask when we renovated because, to us, that means we've designed the home perfectly for its environment," James says.
Having moved from a 1920s gentleman's bungalow in Hawthorn, James and Shane know all too well the maintenance and upkeep required, as well as the inefficiencies an older home can have, so they wanted to make sure their traditional-looking home had all of the mod cons.
Double-glazing, insulation and solar and battery power negate the need for excessive heating or cooling and strategically-placed skylights illuminate the space, with minimal lighting needed.
All materials were carefully selected to ensure they would again patina and age with grace, from the slate on the front patio, to the Tasmanian oak hardwood floors.
"We wanted to have a house that ages beautifully with us and not just be on trend," Shane says. "We've had more contemporary builds and you find when you're in them for a couple of years, things look a bit dated as trends change. In the planning stages, we made sure if things did get dinted or scratched, they would age and blend as they should in a character home."
Even the hallway colour — Dulux Top Hat — was selected with Spencer's future antics on the tricycle in mind. "We chose the colour so if it did mark, it wasn't going to be obvious," James says. "It's a muddy colour, so it will wear well."
Ensuring it would be a family home for years to come, the children's wing has its own corridor off the main hall with two bedrooms and a bathroom. One bedroom is set up as Spencer's nursery and he'll move into the other when he's older, paving the way for another little one in the nursery.
The couple are each other's perfect counterpart in all their projects. Because the approval stage was so lengthy for this home, they had more time than usual to research and workshop the layout and styling.
"Generally, James takes care of the design and styling and I focus on the budget and efficiencies," Shane says. "James is very global and very design-oriented and I'm very function and budget-oriented."
A styling philosophy that has worked well for the couple is to cleverly pair more affordable items with custom feature pieces. In the bathrooms, classic subway tiles sit comfortably with statement tapware and travertine flooring.
In the expansive walk-in wardrobe, the simplest joinery paved the way for the hero of the room — the jaw-dropping skylight with raked ceiling.
Little conversation-starters are dotted around the house. A collection of masks from Papua New Guinea, Africa, India and the Pacific Islands hang in the hallway, along with pictures of family and friends, as well as artwork gathered from travels.
While nothing is too precious in the home, everything is styled immaculately, with classic, muted tones creating the perfect base for a mix of antique furniture, as well as more modern pieces.
The open living, kitchen and dining area is the heart of all the entertaining done in the home. The kitchen, with its butler's sink, detailed white cabinetry and large island has a distinctly Hamptons feel. 
The land is just under 600 square metres, but the couple have utilised every inch to the fullest. The size of the master bedroom was carefully considered to eradicate any unused space to make way for the walk-in robe. The width of the home wasn't compromised with garaging, instead, a laneway at the rear provides access — and even that has been styled with elegant potted trees.
Their build may be new, but James and Shane are both passionate about ensuring the heritage and family-friendly aspect that drew them to the area remains. "We love that the homes are so consistent around the area," James says. "There has been a bit of regeneration, with more families moving in."  
This story first appeared in the April 2020 issue of SALIFE magazine.

Subscribe now
Subscribe Today!
Subscribe to South Australia's biggest-selling magazine, showcasing the best of Adelaide and South Australia.
From only $9 per issue
including free delivery to your door.