Motoring: Jaguar i-Pace
Stylish, responsive and anything but sluggish, the Jaguar i-Pace will have fans of the internal combustion engine thinking again.
Many keen drivers are dreading the arrival of electric and autonomous vehicles. The Jaguar i-Pace should give them hope that all the enjoyment of driving won't be sucked out in the name of environmental responsibility.
One of the most amazing things about the i-Pace (and there are many) is that it was developed over just four years, a remarkably short time frame in the car industry, and Jaguar is the first established luxury brand to market a zero-emissions product, despite having a much smaller research and development budget than its larger and wealthier rivals.
Adapting to an electric vehicle takes some time and patience. Without intending to, I often thumped my passenger's head into the headrest as the surge of power instantly responded to pressure from my right foot. Yes, reaching 100km/h in less than five seconds is quick, but it's the way the power is delivered that grabs your attention. The linear and constant responsiveness takes some getting used to, and you quickly forget this is a 2.2-tonne SUV. Getting up to speed from the lights, when entering a motorway or even when taking advantage of a quickly disappearing gap in the traffic, the i-Pace responds instantly and eagerly.
Of course, one of the regular whinges about electric cars is how long they take to charge, and how little distance they will cover once they are charged.
The i-Pace will reach 80 per cent of its battery capacity in just 40 minutes using a 100kW rapid charger. Why 80 per cent? For some reason, the last 20 per cent can take as long as the previous 80 per cent, and Jaguar suggests 80 per cent is sufficient for anything other long journeys.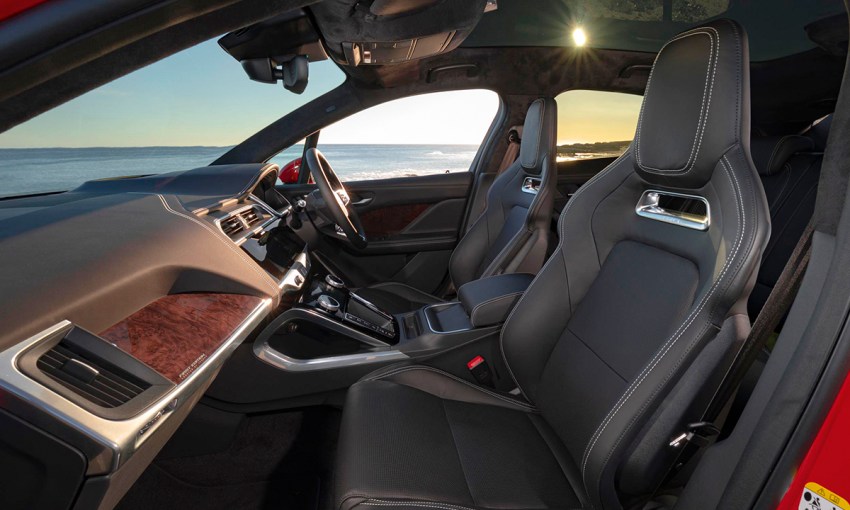 ChargeFox is Australia's largest charging network. Using their ultra-fast charge station, the i-Pace reloads 200km of range in just eight minutes, 400km in 15 minutes. Even better, Jaguar i-Pace buyers will get free charging at ChargeFox ultra-fast charge stations for the first five years of ownership (the price also includes five years' free servicing and roadside assist). Charge points are usually located next to cafes and facilities with long opening hours (24/7 where possible) and are well lit, usually with CCTV. Some charge points are free at all times, others charge a rate per kW (the app on your iPhone or Android phone tells you where the nearest charging point is, and how much, if anything, it charges per kW).
Things aren't quite so rosy if you're using a standard 240v power point at home. The i-Pace will take an eternity to recharge (it adds 11km of range each hour on the charger). When we parked the i-Pace at home, the readout was showing 38 per cent charge, but still with a useful range of 174km. Sixteen hours later, we were up to 69 per cent charge and a 319km range. A further five hours later, we had reached the recommended 80 per cent charge and the range was up to 379km. Fully charged, the i-Pace was suggesting it had a range of 454km (using the WLTP protocol, it is rated at 470km).
Most buyers, however, will opt for a faster charging home unit. Jaguar has partnered with Jet Charge to provide more efficient home charging stations (Jaguar itself doesn't sell the units). Using a 7.2kW single phase home unit, the i-Pace will be charged to 80 per cent and a 380km range in 12.5 hours. The cost for the charger is around $2000 including installation. For a driver who travels 50km a day, the weekly cost of recharging using off-peak power would be around $10.
So, with cost and range out of the way, what's it like to own an i-Pace?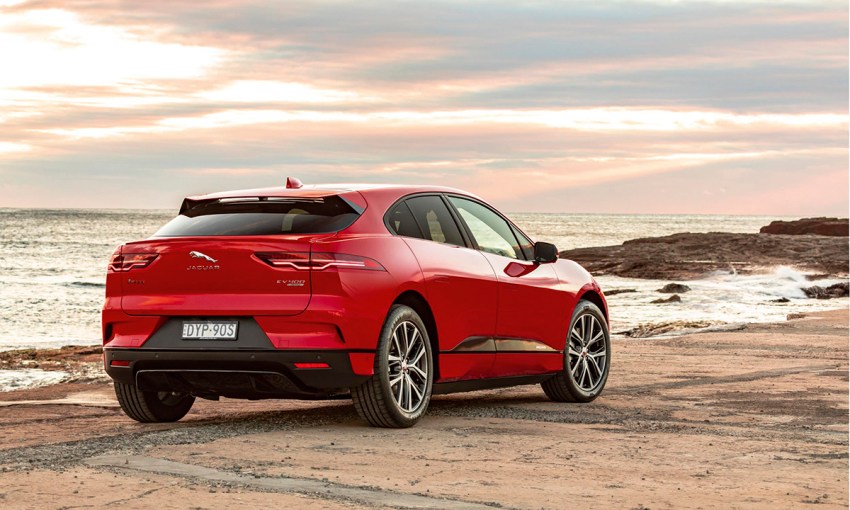 The good news is that it's still a Jaguar. The styling takes its cues from Jaguar's C-X75 concept car. The bonnet is low and vented, the car looks hunkered down and the drag coefficient of 0.29 is sportscar-like. The now-familiar Jaguar grille is purely decorative; electric cars don't need a cooling airflow.
Sitting inside will also feel familiar to Jaguar fans. There are lots of the ubiquitous piano black and metal finishes, but the design and layout are right up-to-the-minute. The cab-forward design has the added advantage of freeing up useful rear seat space. There's usable 656 litres of boot space behind the rear seats and an additional 27-litre storage bin under the bonnet. Vision to the rear is limited by the tiny rear screen.
On the road, the i-Pace sets new standards of driver engagement, unlike any electric car before. Corners can be despatched at undreamt-of speeds and even the much-maligned numbness of regenerative braking has been reduced. Smooth inputs will result in fluid progress and passengers not complaining about being thrust back in their seats.
The Jaguar i-Pace isn't unreasonably priced (from around $124,000, plus on-road costs) but its real strength is its appeal well beyond the usual EV buyers. And it will certainly tempt Tesla buyers. 
Confirm prices with dealer and add statutory on-road costs and dealer delivery, for more information, visit solitaire.com.au
This story first appeared in the June 2020 issue of SALIFE magazine.
Subscribe now
Subscribe Today!
Subscribe to South Australia's biggest-selling magazine, showcasing the best of Adelaide and South Australia.
From only $9 per issue
including free delivery to your door.