All hung up
Step inside the wardrobes of some of South Australia's most stylish to see how they pull off their looks.
Kind and thoughtful
Artist Hattie Leigh Palmer's style has evolved greatly since she began dating Redbacks and Australian cricketer, Adam Zampa about six years ago.
"I didn't really know which way was up in terms of fashion before he and I started dating," Hattie says. "He definitely takes the reins on the creative side in terms of dressing."
The couple, now engaged, are devoutly vegan and their sustainable lifestyle has worked its way into their wardrobe.
Hattie and Adam have made a hobby of scouring the racks of vintage clothing shops and they've amassed a collection of delightfully quirky pieces that perfectly reflect their personalities.
There is plenty of denim — Hattie's most prized finds — and Adam's corduroy obsession is splashed throughout the wardrobe.
Growing up in country Northern Territory, Hattie says jeans were workwear while riding and doing farm work. Now, they're a wardrobe staple for day and night. "It's funny that I take such good care of them now. They were something you'd just get dirty, scuff up and they'd go in the wash every now and then. Now, I go out to nice places in jeans." Hattie doesn't own a single pair of new jeans, they've all been bought from an op shop or vintage store. Her best find was a pair she scored in Darwin for just a few dollars when she was 16, and they're still going strong.
Both Hattie and Adam describe their style as thoughtful above all else. Adam's side of the closet is a cord lover's paradise, but each piece has been carefully selected, going through a checklist that each prospective garment needs to pass when the couple are shopping.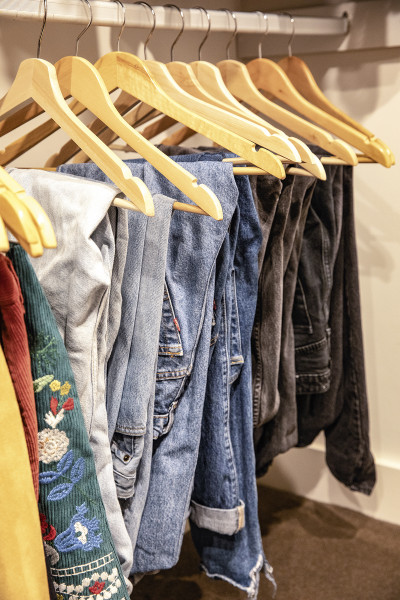 Every item has to stand the test of time. "In the past, I'd see something I liked, wear it a few times and then the process would continue," Hattie says. Now, she ensures her clothing is of good enough quality to be worn over and over, as well as versatile enough to be worn in a multitude of ways. "I'd rather get one item that does three things. That eliminates me having to get two more.
I need something that is not going to just go out of season and become trash."
Adam and Hattie's wardrobe works harder than most, with the pair sharing pieces between them. One of Adam's favourite finds is a pink corduroy shirt, which garners compliments for Hattie every time she wears it.
Garments also have to be kind to find their way into the couple's wardrobe, whether it's to the people who make it, the environment or animals. One hard rule they both have is there are absolutely no animal products in their collection.
A couple of Hattie's favourite brands are Spell & the Gypsy Collective and Arnhem, which typify her floaty, neutral style. To Hattie, blush pink is about as vibrant as her palette gets, instead preferring washed out, stone colours — Adam describes her style as "earthy".
Though most of the pieces on Hattie's side of the wardrobe are worn over and over again, a pair of prized Stella McCartney shoes sit in a dust bag, ready for special occasions.
Hattie says Adam is her style icon for how open he is to trying new things. "I'm obsessed with his style. I live vicariously through him."
Each year, the couple step out of the comfort of their usual clothes and get glammed up for the Australian Cricket Awards. Hattie gives complete artistic control to stylist Lana Wilkinson, who makes Hattie's Cinderella fantasies come to life.
On the red carpet earlier this year, Hattie donned a hot pink Cappellazzo Couture gown. "I would have sworn black and blue I couldn't pull it off. When I put it on, I thought, 'I want to live in this dress'."
Adam's most treasured item in his wardrobe is something he purchased new — a pair of corduroy Sean Wotherspoon Air Max sneakers.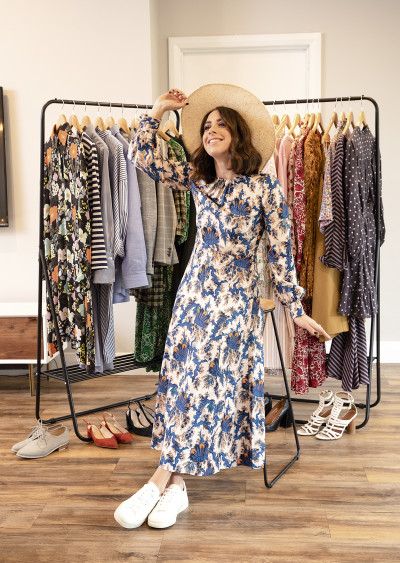 Wardrobe renaissance
Danni Sparkes knows what works for her, and she's running with it. She's curated a wardrobe that perfectly suits her new-found style.
If you peeked into her wardrobe a few years ago, you would have seen mostly black and white. Since then, she's conducted a major overhaul, inspired by overseas travel. In the place of the monochrome palette now hangs an eclectic array of prints and vibrant colours.
Danni, marketing manager at RAA, is well-versed in the world of Scanlan Theodore, with many of her pieces from the label. Most of Danni's collection comprises a handful of brands, with other pieces from here and there.
Her favourites, aside from Scanlan, are Sandro, Acler, Ganni and Camilla and Marc. They all tend to make clothing that fits well on her petite frame and offer that little flavour of something different Danni is always searching for.
These days, Danni isn't afraid of a loud print, but she's careful to select those that are easy to mix and match, and are trans-seasonal. There are checks, stripes and muted florals.
While some of Danni's most stunning pieces are floaty ankle-length dresses, she describes her style as a little bit masculine.
Her silhouettes are always interesting — body con is not her thing. Hanging in her wardrobe are voluminous sleeves, cinched waists and oversized tops. Danni manages to pull her pieces together perfectly with just the right proportions.
Every dress has to follow one golden rule: you must be able to wear it with a white sneaker, a sandal and a heel. Following
this rule eliminates purchases that can only be worn with one particular style in mind.
Danni loves her clothing, but she really gets excited about accessories. Her most prized possession is her Celine handbag. "It's where I splurge," she says. "Accessories and handbags really lift an outfit."
An absolute staple in Danni's wardrobe, and the oldest things in her collection, are her RM Williams boots. "I'd recommend everyone gets a pair. The craftsmanship is sensational." Danni says women sometimes avoid the style, thinking they could look too masculine. But paired with a pretty dress, Danni manages to tip the look firmly into feminine territory.
Danni's system for weeding out the wardrobe intruders is clever. "I move things into the spare room and if I've gone to find something, it needs to come back into the wardrobe. If it's still in the spare room months later, it has to go. That's how you learn more about your style. You think about why you didn't wear it and why you should avoid buying that style again."
Danni describes the style in South Australia as generally quite conservative, but urges everyone to push their boundaries. "Try new things. Even if you think something won't look good, just give it a go."
Eye on design
The labels in Lucy Damin's wardrobe are blinding. Celine. Yves Saint Laurent. Christian Louboutin. The list goes on.
While her clothing is impressive, the accessories are the real stars. "Accessories aren't just a sidekick to your clothes," Lucy says. "In my opinion, they're even more important than your clothes. They make a statement, are eye-catching and a great way to try out a bold new trend, print or texture without having to cover your entire body with it."
Lucy, brand manager at Pasture Genetics, invests in the areas that matter most to her — she spends on well-made Italian shoes and high quality handbags, but tends to keep her jewellery fun and interchangeable. "Nothing can add oomph to your wardrobe like an on-trend accessory."
Casting an eye over her collection, Lucy couldn't even guess how many bags she owns. Picking a favourite would be like naming a preferred child. Although, she says you can't go wrong with a classic Chanel. "But my latest is a Chloe C bag. You can always rely on Chloe for a handbag you'll carry year on year."
Lucy admits she's not the sort of person who pre-plans a capsule wardrobe, but she is careful to ensure every item she purchases sits cohesively within her existing collection.
The colour scheme consists of lots of black, navy and lighter neutrals, with infusions of on-trend colours. At the moment, there are pops of British racing green and emerald tones, maroon and deep Bordeaux and rich metallics.
In her quest to be winter-ready, Lucy recently invested in a Burberry Kensington Heritage trench coat she's had her eye on. "The magic of the trench is its ability to frame most looks in a seamless, complementary fashion." 
Zimmermann turtleneck knits have also worked their way into Lucy's wardrobe, and next on the list are high-waisted pleated skirts from Reiss, which she's been coveting lately.
No matter the season, tried and true staples in Lucy's closet are button-down shirts. "It's a fast way to look fresh and polished for a day at the office or smart weekend attire." There's a host of striped shirts in her wardrobe — Scanlan Theodore and Sandro are the favourites.
An outfit Lucy would pick above all else is her favourite Nobody Denim jeans, one of her striped shirts, and a pair of killer heels. Her go-to brands are Stuart Weitzman, Gucci and Valentino. To top it off, an on-trend Balmain or Maje blazer.
There's a flavour of equestrian chic in Lucy's wardrobe. After all, she is horse-mad. Daily basics are mixed with high fashion for a polished, but effortless look. "If I had to, I would describe my style as eclectic, veering more towards the masculine side."
More important than following any trends, Lucy says the key is to find something that works for the individual, inside and out.
"Great style is about approaching each day with confidence and the ability to feel, with conviction, beautiful in what you are wearing. What I love about style is how it can evolve." 

Subscribe now
Subscribe Today!
Subscribe to South Australia's biggest-selling magazine, showcasing the best of Adelaide and South Australia.
From only $9 per issue
including free delivery to your door.