Premium SAHOMES: Two luxury homes for sale on Eyre Peninsula
Looking for a sea change with style? Two rare and luxurious abodes on Eyre Peninsula have recently hit the market.
A state-of-the-art home at Coffin Bay was built by owner Klint Stott, who runs Eyre Peninsula company Stotty's Building.
Klint and wife Kirby and their two young daughters have lived in the spacious home for three years, and the couple also operates the business from the huge home office.
The decision to sell wasn't easy but the couple is keen to create more space between work and family life, says Kirby, who runs the advertising and marketing arm of the business.
Built in 2016, the high-end home was designed by Port Lincoln architect Damien McQuillan, who also guided Kirby on the interior design choices.
The four-bedroom home's stylish features include stone bench tops in the kitchen and laundry, butler's pantry, three bathrooms, a master suite with walk in robe and en suite and a rumpus room.
"I just love the space," says Kirby. "I can be in the kitchen, which is the real hub of the home, and I can see every room of the house.
"So, I'll be cooking and I can see the girls' cubby house and the whole backyard, or see them riding their bikes out the front. It's such a good space for kids."
Kirby says her husband will miss the lifestyle of the home's location, with water activities right on their doorstep, including cray fishing, inshore and offshore fishing and scallop diving.
"Within an hour Klint can go out on the boat and have a fresh tuna onboard for tea that night," she says.
The coastal block is more than 5000 square metres and one of the biggest selling points is the huge shedding area for boats and caravans up to 10 metres long. There are two garden sheds, a chicken coop, fruit orchard, five carports, a large backyard, two outdoor entertaining areas, an outdoor spa and shower and low maintenance native garden.
And all this just a short walk to the sea, and another local attraction, Oyster HQ, a cellar door where you can enjoy oysters and wine.
"It's a seven-minute walk from here to the water," Kirby says. "So, you can have oysters and a drink looking at the water and then just walk up the hill home."
While it will be hard to leave the house, the couple plans to undertake another build on the Eyre Peninsula.
"We built this place as our home and for our enjoyment but also as a grand show home," Kirby says. "It's a real showpiece of what our building company does. But it's also just a great family home.
"I think it would suit someone looking for a holiday home or a retired farmer who is looking to downscale but still wants plenty of space."
For details of the sale, go here.
Another upmarket Eyre Peninsula home for sale is at 9 Sheaoak Road, Tulka. The spectacular beachfront property, a 10-minute drive from Port Lincoln town centre, has a rustic feel with Oregon timber doors and ceiling beams. At more than 1200 square metres, there is plenty of space and the block also includes a two-storey, self-contained retreat.
Owner Tim Kayes, who specializes in stonework and brick laying, designed the home himself and says he "50 per cent" built it. It took more than 10 years to complete and Tim also used Stotty's Building to finish things off eight months ago.
"This is a one-of-a-kind home," says Tim, who collected the timber and stone himself over the years. "Just the attention to detail and the quality, and it's such a beautiful spot here."
The stand-out stone home features four bedrooms, three bathrooms, two living areas and uninterrupted sea views.
Sotheby's agent Ross Smith says the Coffin Bay and Tulka properties are two of the finest homes on the Eyre Peninsula.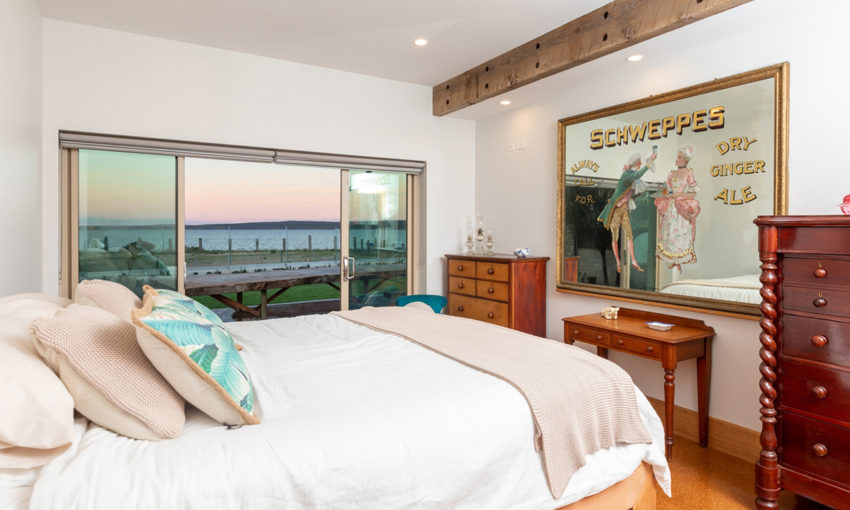 "Each has been built as a private sanctuary by a local builder with a vision to construct a residence to a level of design and finish that is unprecedented in the area," he says.
"The homes offer not only unsurpassed levels of luxury, but also the chance to escape the city and indulge in the enviable laid back coastal South Australian lifestyle."
He says the homes are being marketed to both national and international buyers and will be showcased as part of the company's spring campaign with open inspections in late August.
For details of the sale, go here.

Subscribe now
Subscribe Today!
Subscribe to South Australia's biggest-selling magazine, showcasing the best of Adelaide and South Australia.
From only $9 per issue
including free delivery to your door.