November 3, 2023
SALIFE Absolute Best Awards
See yourself on the cover of SALIFE
Our fabulous cover booth in Rundle Mall is the spot to live out your covergirl (or guy) dreams!
We welcomed our fabulous life-size SALIFE magazine cover booth to Rundle Mall this week, with lots of excited testing (and striking of poses) by our editorial and event teams.
The magazine cover is a fun promotion for our double celebration coming up on Thursday, December 7.
SALIFE Absolute Best Awards 2023 and 20 Years of SALIFE both feature on the realistic cover. And we couldn't resist adding a Party of the Year headline too!

The free, walk-in booth is in front of The Myer Centre until Sunday, November 12.
It has plenty of room for a posse of friends, or for a glamorous couple's pose. So, get dressed up and have some fun shooting your own cover photos!
And don't forget to tag us on the socials @salifepublications #AbsoluteBest2023 #SALIFEturns20
Plus, while you're there, scan the QR code and purchase your ticket to the SALIFE Absolute Best Awards, presented by Brand South Australia.
Your ticket will go into the draw to win a VIP Luxury Experience on the night thanks to Eos by SkyCity, our exclusive hotel partner.
Winners will be notified by Friday, November 24.
Terms & conditions here.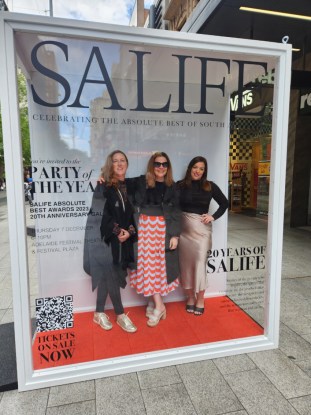 Celebrate the 2023 SALIFE Absolute Best Awards and SALIFE's 20th year.
Join us for the Awards Ceremony at the iconic Adelaide Festival Theatre, followed by the open air after-party on Festival Plaza. Against the stunning backdrop of the CBD and riverbank, with music and dancing, it is sure to be an unforgettable celebration!
There'll be wines flowing from Bird in Hand, craft beers from Vale Brewing and a gin bar courtesy of 23rd Street Distillery. Enjoy fabulous finger food and design from Out In The Paddock, plus entertainment that will keep the party vibes going late into the night.
Tickets include entrance to the award ceremony and after party, including all food and drinks.
Subscribe now
Subscribe Today!
Subscribe to South Australia's biggest-selling magazine, showcasing the best of Adelaide and South Australia.
From only $9 per issue
including free delivery to your door.