March 4, 2021
SPONSORED STORIES
Bridal boutique and florist bloom in Adelaide's East
Who is your favourite small business operator in the East? Enter them in these awards.
Sarom Mom had a unique, but somewhat peculiar hobby when she was a child.
The youngster was obsessed with plants – particularly native flora – and would intently research the origins of the plants and flowers she discovered.
It therefore wasn't a huge surprise to her family and friends when Sarom chose a career as a florist at the age of 19.
Now, more than two decades later – and after working for other businesses arranging bouquets for weddings, events and celebrations – Sarom is the proud owner of Everflowers Collective, on Magill Road, Norwood.
"Every girl loves flowers – but my love for flowers and plants extends right back to my childhood," Sarom says.
"As soon as I was old enough, I applied for a traineeship at an established florist and learnt the essential skills – stripping the flowers, cutting the stems, as well as the glamorous parts of floristry."
Everflowers Collective – which sells fresh flowers, indoor plants and locally-designed arrangements – is so popular with the community, it has been nominated in multiple categories in the Eastside Business Awards.
The Awards are a partnership between the City of Norwood Payneham & St Peters and Solstice Media, which publishes SALIFE.
Sarom is hoping to win either the Best Customer Experience or Best Independent Retailer categories.
Norwood Payneham & St Peters' Mayor Robert Bria says multiple nominations in various categories demonstrated the calibre of the contenders in the Awards.
"There are so many unique, classic and contemporary retailers and businesses in the Council area," Mayor Bria says.
Sarom agrees wholeheartedly with the Mayor's sentiments. "I chose Magill Road for my business because it fits in with such an elegant group of shops," she says.
"After working for other florists, then being a stay-at-home mum, opening my own shop has always been my dream.
"It is such a fantastic feeling to be able create something beautiful and put a smile on someone's face – particularly after the tough year that people have had."
Another strong contender in multiple categories in the Eastside Business Awards is Greta Rumsey who opened her bridal boutique GretaKate in Charles Street, Norwood, eight years ago.
Greta fell in love with the beauty of the 1900s cottage which she turned into her showroom, while welcoming the convenience of ample parking and the close proximity to the city.
"I was running GreatKate from home in Stirling, and while the location was beautiful and the hills are lovely, it's not convenient for everybody," Greta says.
"The move to Norwood definitely had a lot to do with the success of my business, and it has such a nice community vibe.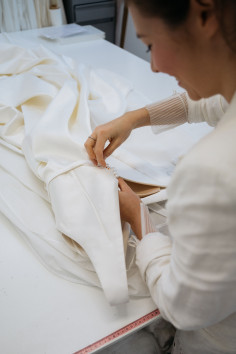 "I'm just off the Parade, so I'm away from the hustle and bustle. But I love the variety of businesses – a mechanic, a photographer and a modelling agency are just around the corner."
Mayor Bria says he is thrilled that so many businesses are choosing to grow and thrive in the City of Norwood Payneham & St Peters.
"Whether I am driving along a main precinct or walking along smaller streets, I am always so pleased and delighted to see the incredible diversity of the Council's retail and business sector," Mayor Bria says.
Winning businesses receive $1000 in advertising to be spent with Solstice Media and a choice of business advisory service (business planning, budget and forecasting or bookkeeping training) to the value of $1000 with BIAS, while voters can win a $250 voucher for a business of their choice in the City of Norwood Payneham & St Peters.
Alongside awards for Best Customer Experience and Best Independent Retailer, some of the other categories include Best Pub/Bar, Best Entertainment Venue, Best Coffee and Best Hair/Beauty Salon.
Voting in the Eastside Business Awards runs until March 18. Finalists will be named on March 31, with winners announced online on April 14.
Voters can find the QR codes in businesses, which, when scanned, will take them directly to the voting platform.
There is also a QR code on the back page of the latest CityMag Festival edition, which is on the streets now.

Subscribe now
Subscribe Today!
Subscribe to South Australia's biggest-selling magazine, showcasing the best of Adelaide and South Australia.
From only $9 per issue
including free delivery to your door.