April 7, 2022
SPONSORED STORIES
Callum Hann for EatDrink Local SA
Callum's favourite recipe for Crunchy Chicken Tacos with Corn Salsa & Guacamole.
Chef Callum Hann has been all about great South Australian produce since he started cooking and shares his passion with home cooks through Sprout Cooking School. When EatDrink Local SA asked him to select a favourite ingredient, he picked one that can be both the star of the show and the behind-the-scenes workhorse delivering flavour to just about everything: South Australian extra virgin olive oil.
Callum loves this recipe because it's kid-friendly to make and to eat. He uses Pendleton Extra Virgin Olive Oil through the recipe to add robust flavour and that essential crispiness to the chicken.
This recipe calls for some top quality South Australian chicken (ask your butcher about their favourite), a light South Australian extra virgin olive oil, fresh veg and herbs (from your own garden?) and your choice of creamy South Australian-made Greek yoghurt to add creaminess to the guacamole.  
Get the kids involved in the mixing and mashing, and Callum says they'll love their fresh veg even more if they can eat dinner with their hands! And check out Callum's lime juicing trick in the video – it's easy and gives you extra fresh lime juice every time.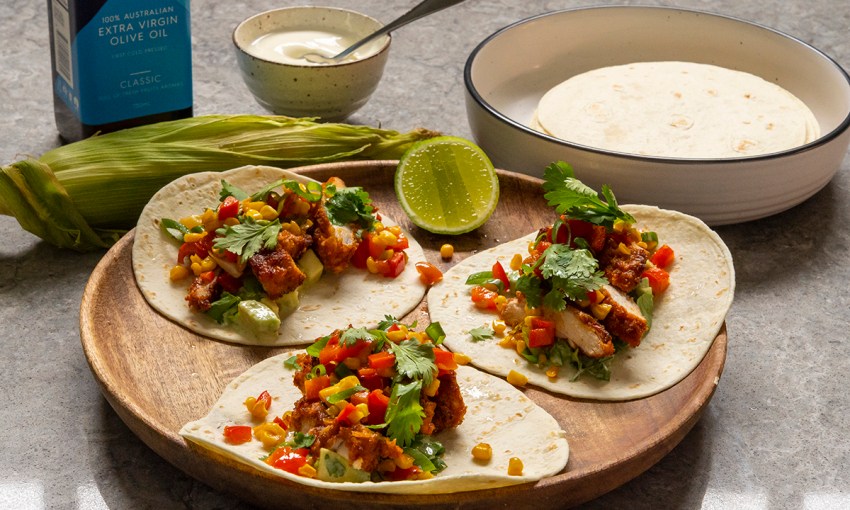 Crunchy Chicken Tacos with Corn Salsa & Guacamole
(serves 4)
Ingredients
⅓ cup panko breadcrumbs
2 tablespoons plain flour
2 teaspoons smoked paprika
1 teaspoon ground cumin
pinch of salt
4 chicken thighs, diced into bite-sized pieces
1 tablespoon Pendleton's Classic Extra Virgin Olive Oil
2 corn cobs, kernels removed
1 red capsicum, diced
2 spring onions, finely sliced
½ bunch of coriander, leaves picked
1 lime
1 avocado
¼ cup reduced-fat South Australian Greek yoghurt
8 small tortillas
Method
Combine breadcrumbs, flour, paprika, cumin and salt in a large container. Add chicken, secure the container lid and shake until chicken in evenly coated in the crumb mixture.
Heat oil in a large frying pan over medium-high heat. Cook chicken, turning occasionally, for 4-5 minutes or until golden, crispy and cooked all the way through. Transfer chicken to a bowl.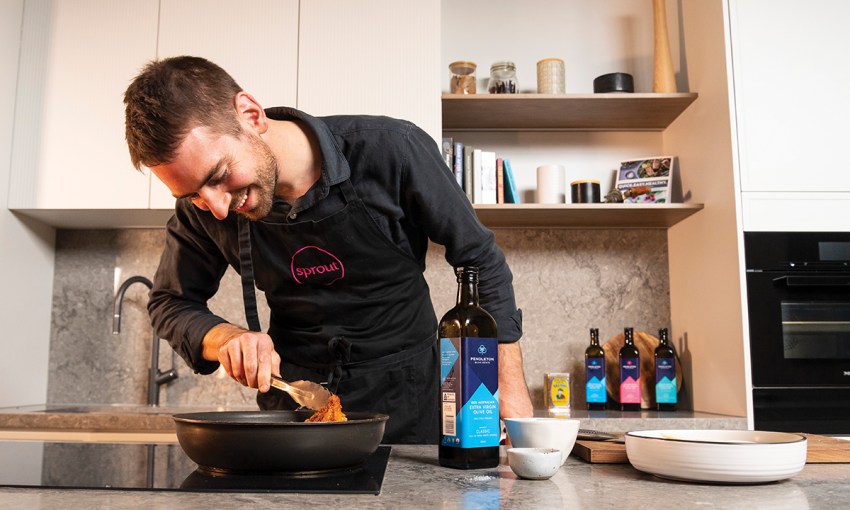 Wipe out the pan and return to the heat. Cook corn for 1-2 minutes or until bright yellow and tender. Transfer to a bowl and set aside to cool slightly. Then stir through capsicum, spring onion and coriander leaves. Dress the salsa with the juice of half a lime.
In a separate small bowl, mash the avocado with the juice from the remaining half of lime. Stir in the yoghurt until avocado is smooth and creamy.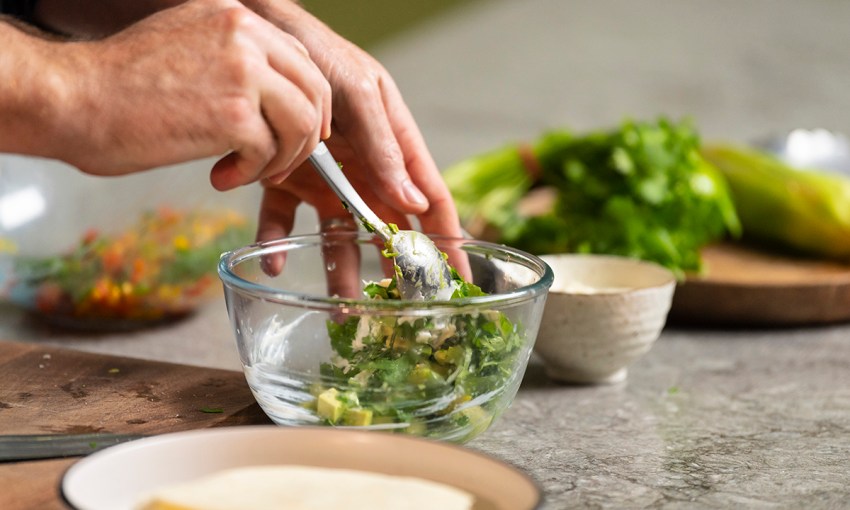 Warm tortillas if desired. Fill tortillas with crispy chicken, corn salsa and guacamole and serve with extra lime.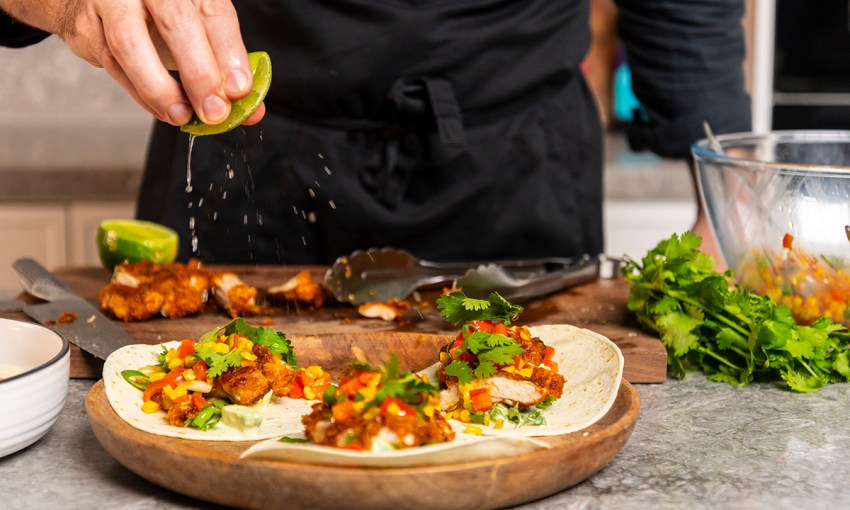 About EatDrink Local SA
EatDrink Local SA connects consumers with the restaurants, pubs, cafes, cellar doors, farm gate producers, specialty retailers, and culinary tourism experiences across South Australia who hero our local food and beverage products.
Look for the signs to find chefs and businesses who love local as much as you do – there are over 300 venues to choose and you will find them in every region across South Australia.
If you're hungry for more local food and drink treats, visit eatdrinklocalsa.com.au, where you can search by region or venue type, and find more delicious recipes.
Subscribe to the EatDrink Like a Local newsletter for updates on special offers and great new South Australian products and brands.
visit eatdrinklocalsa.com.au
CREDITS
Recipe: Callum Hann for EatDrink Local SA
Images: John Kruger
Subscribe now
Subscribe Today!
Subscribe to South Australia's biggest-selling magazine, showcasing the best of Adelaide and South Australia.
From only $9 per issue
including free delivery to your door.