June 9, 2022
SPONSORED STORIES
Daniel Simpson for EatDrink Local SA
Daniel serves up the perfect winter seafood dish using South Australia's finest ingredients.
Originally a Sydneysider, Oval Hotel Executive Chef Daniel Simpson says he delights in the passion South Australians have for their local produce. It fuels his approach to developing the wine-focused menu for the Five Regions restaurant and inspired this recipe created for EatDrink Local SA featuring his favourite ingredient of the moment – premium Otoro tuna from KIN Premium Australian Seafood. Here it's teamed with crunchy celeriac remoulade and a pangritata jazzed up with lemon myrtle and pickled garlic – a happy find at the Adelaide Showground Farmers' Market.
Tuna, Tarragon, Saffron and Burnt Butter Dressing
The trick to this recipe is controlling temperature – Daniel takes his burnt butter to the very edge to achieve deep flavour and then instantly cools things down by adding the oil at just the right moment. And lightly oiling both the grill and the fish fillets stops things sticking and burning when you don't want them to.
With the weather cooling, crisp and crunchy celeriac remoulade is a perfect partner for the rich tuna. Daniel says if you are strapped for time, reach for the Beerenberg Farm Ranch Dressing to make your remoulade, it's his go-to when cooking at home.
Tuna, Tarragon, Saffron and Burnt Butter Dressing
Serves 4
4 150g fillets KIN Premium Australian Seafood Otoro tuna
1 lime
Tarragon Saffron Dressing
0.5g saffron
10g hot water
50g cold butter, diced
50ml South Australian extra virgin olive oil
1 teaspoon fresh tarragon leaves
10g Dijon mustard
75ml white wine
25ml Pendleton Olive Estate chardonnay vinegar
1/4 lemon, juice and zest
Salt and pepper to taste
Method
Tarragon Saffron Dressing
Soak the saffron in hot water for at least 20 minutes.
Pre-heat your saucepan and when it is hot, add the butter. It should sizzle immediately. Cook until brown, then add your oil to reduce the temperature and stop the butter from going too far. Take the pot off the heat, strain off sediment and set aside to cool.
Add the wine to a clean saucepan and reduce over heat until you have about 40ml. Cool, and then combine with your vinegar, saffron and water.
Add butter and remaining ingredients except tarragon and stir well to emulsify. Season to taste. 
Chop your tarragon and add to the vinaigrette. Set aside.
Celeriac Remoulade
1 bulb celeriac
1 bulb fennel
100g mayonnaise
600ml buttermilk
1 teaspoon chives, finely chopped
1 teaspoon dill, finely chopped
¼ teaspoon ground coriander
¼ teaspoon onion powder
¼ teaspoon garlic powder
1 lime, juice and zest
Salt and pepper to taste
Method
Mix all ingredients except the celeriac and fennel to make your dressing. 
Peel and julienne the celeriac. Pick a few fronds of fennel and set aside for garnishing your dish later (if keeping for a while, put them in iced water to keep them crisp and fresh).
Before serving, put the celeriac and fennel together in a bowl and dress with the dressing.
Chef's tip – if you are time poor, Daniel recommends Beerenberg Farm's Ranch Dressing as a delicious ready to go alternative!
Pangritata
100g day old sourdough bread and offcuts
20ml olive oil
2 cloves Haaseford Farms pickled white garlic
1 teaspoon lemon thyme
½ teaspoon lemon zest
2 leaves lemon myrtle
10g salt flakes
15g black pepper, freshly cracked
Chef's tip – reach for the panko crumbs if you are out of sourdough bread!
Method
Process the sourdough bread in a food processor until you have coarse breadcrumbs.
Pick the thyme leaves and set aside.
Thinly slice the pickled garlic and fry in olive oil until golden. Add the picked thyme leaves. Fry gently just until you can smell the aroma, then remove garlic and thyme from your oil and chop finely. Keep the oil in your frypan.
Add your breadcrumbs to the flavoured oil and fry until crisp. Season to taste, then add back the chopped garlic and thyme. Add the lemon myrtle. Drain well on kitchen paper to remove excess oil.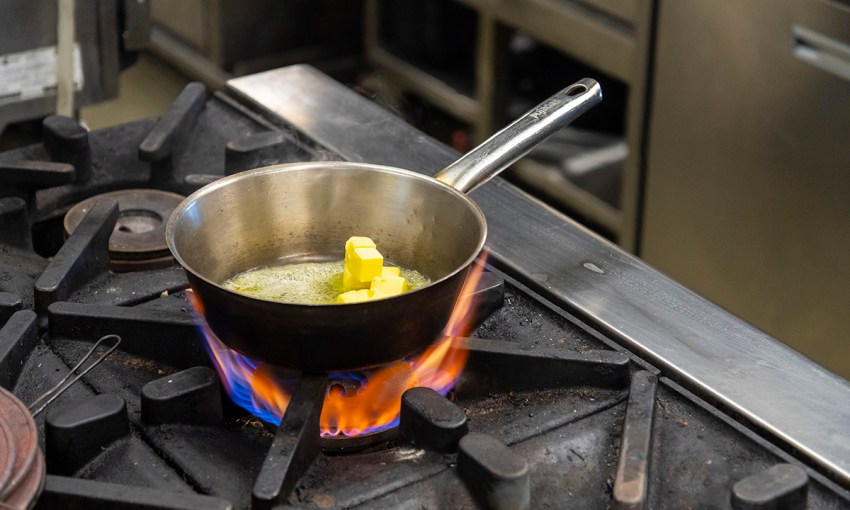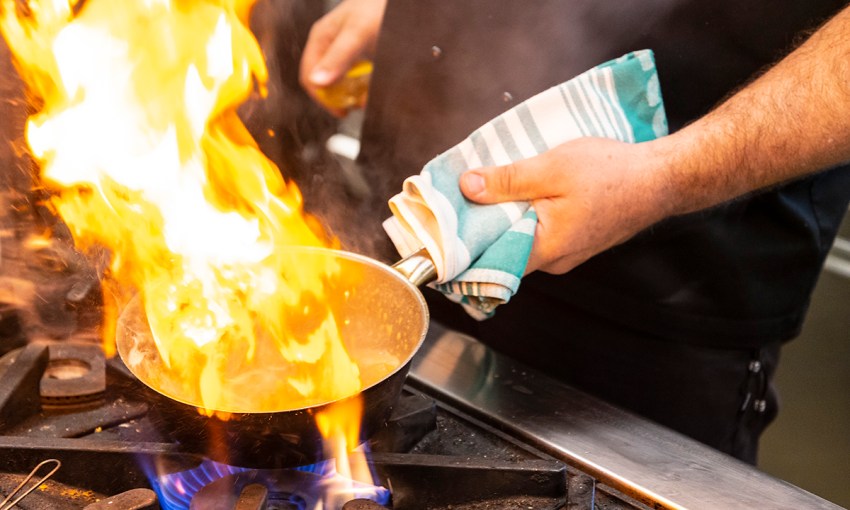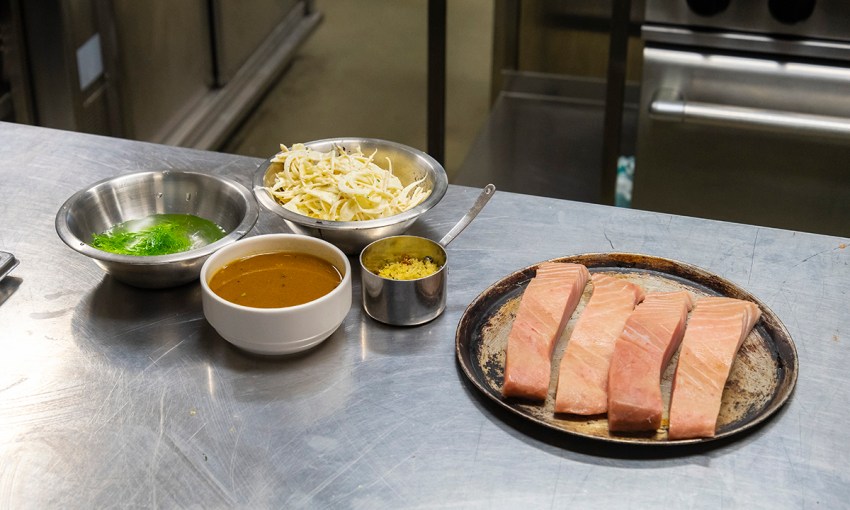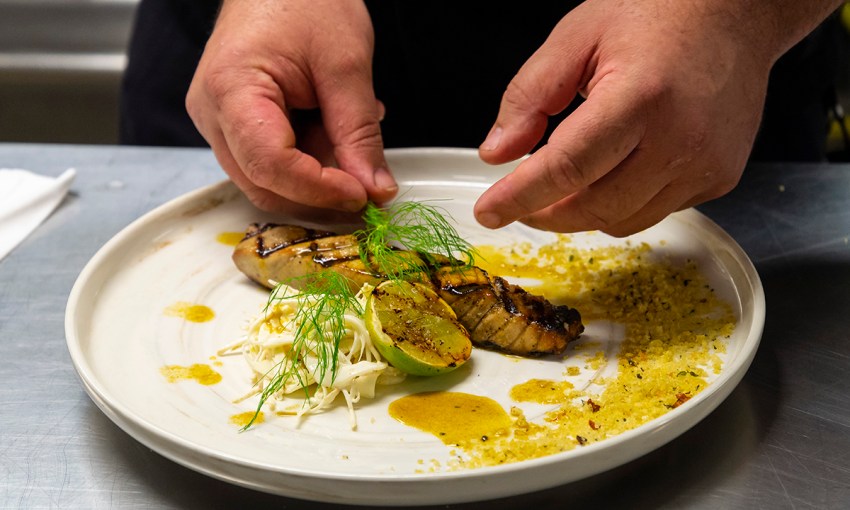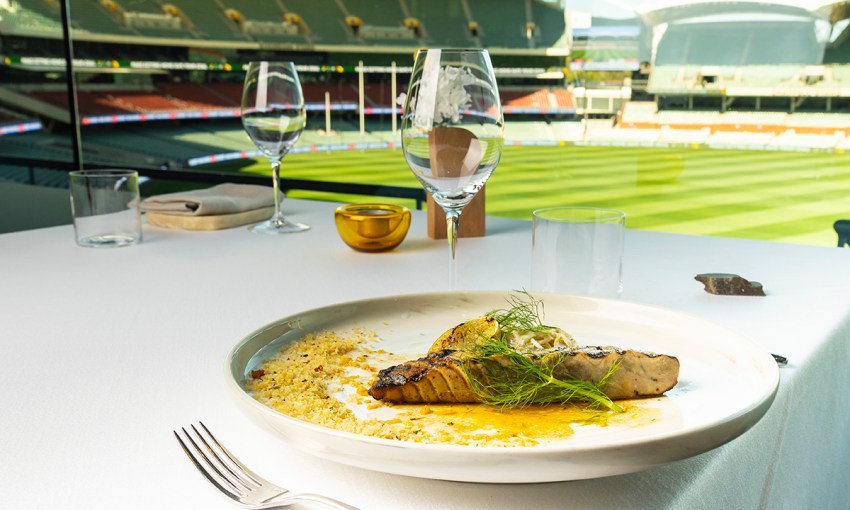 About EatDrink Local SA
EatDrink Local SA connects consumers with the restaurants, pubs, cafes, cellar doors, farm gate producers, specialty retailers, and culinary tourism experiences across South Australia who hero our local food and beverage products.
Look for the signs to find chefs and businesses who love local as much as you do – there are over 300 participating venues, and you will find them in every region across South Australia.
If you're hungry for more local food and drink treats, visit eatdrinklocalsa.com.au, where you can search by region or venue type, and find more delicious recipes.
Subscribe to the EatDrink Like a Local newsletter for updates on special offers and great new South Australian products and brands.
Visit eatdrinklocalsa.com.au
CREDITS
Recipe: Daniel Simpson for EatDrink Local SA
Images: John Kruger
Subscribe now
Subscribe Today!
Subscribe to South Australia's biggest-selling magazine, showcasing the best of Adelaide and South Australia.
From only $9 per issue
including free delivery to your door.