May 6, 2021
SPONSORED STORIES
Distinctive Gardens wins the inaugural Home Show Landscape Competition
Distinctive Gardens has been crowned the inaugural winner of the Master Landscapers of South Australia Home Show Landscape Competition.
For the first time ever, Master Landscapers of South Australia recently staged a landscaping competition at the 2021 Home Show. After months of planning, four Master Landscapers of South Australia (MLSA) members had three days to build their own competitive display, showcasing their style, flair, and creativity. The competitive gardens were judged by a panel of esteemed experts from the MLSA, the SA Chapter of the Australian Institute of Landscape Architects, the Nursery & Garden Industry of South Australia, and SALIFE's own garden expert, Kim Syrus.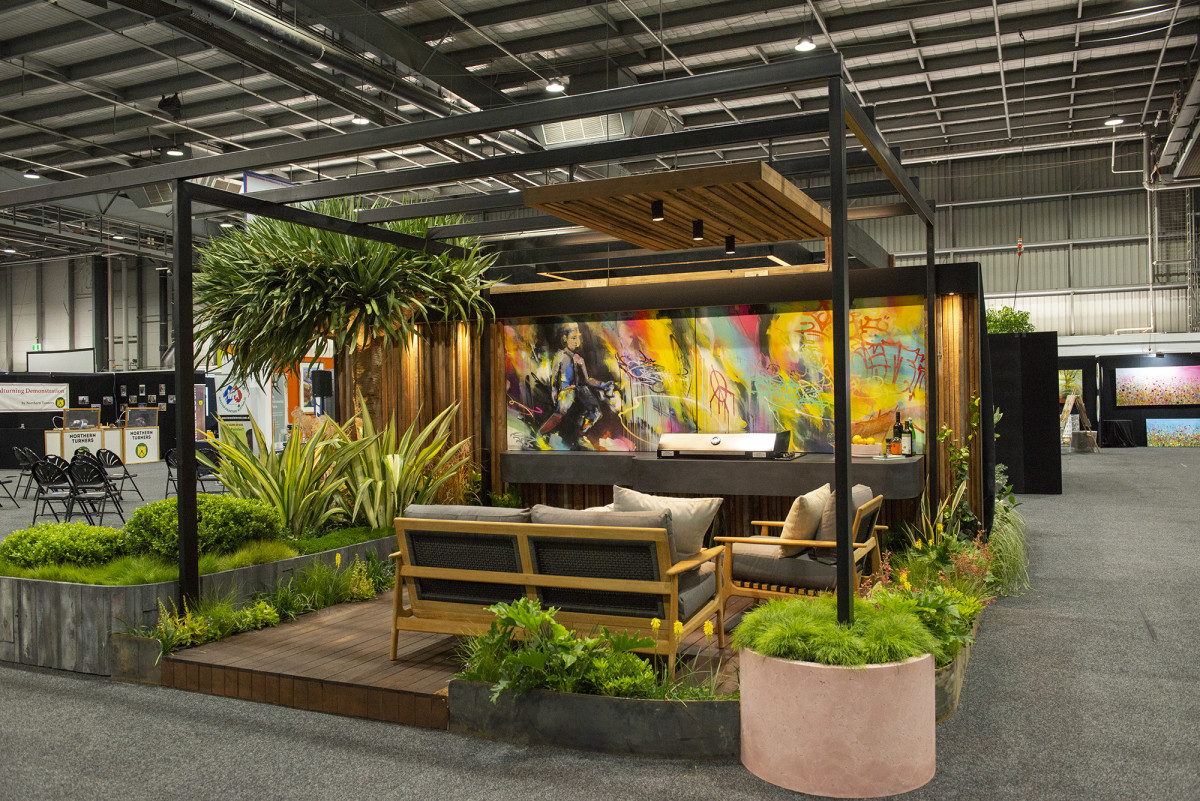 After much consideration, Distinctive Gardens was crowned the inaugural winner of the Home Show Landscape Competition, so let's learn a little more about the winner.
Business Name:
Distinctive Gardens
Name & Title:
Rob Cooper, Design & Construction Manager
Tell us about Distinctive Gardens:
Distinctive Gardens has established itself as a boutique landscape design and construction business. We have a hands-on approach to the design and build process. We thrive on being able to develop a garden to encapsulate our clients brief and style, whilst blending the building and the surrounding environment.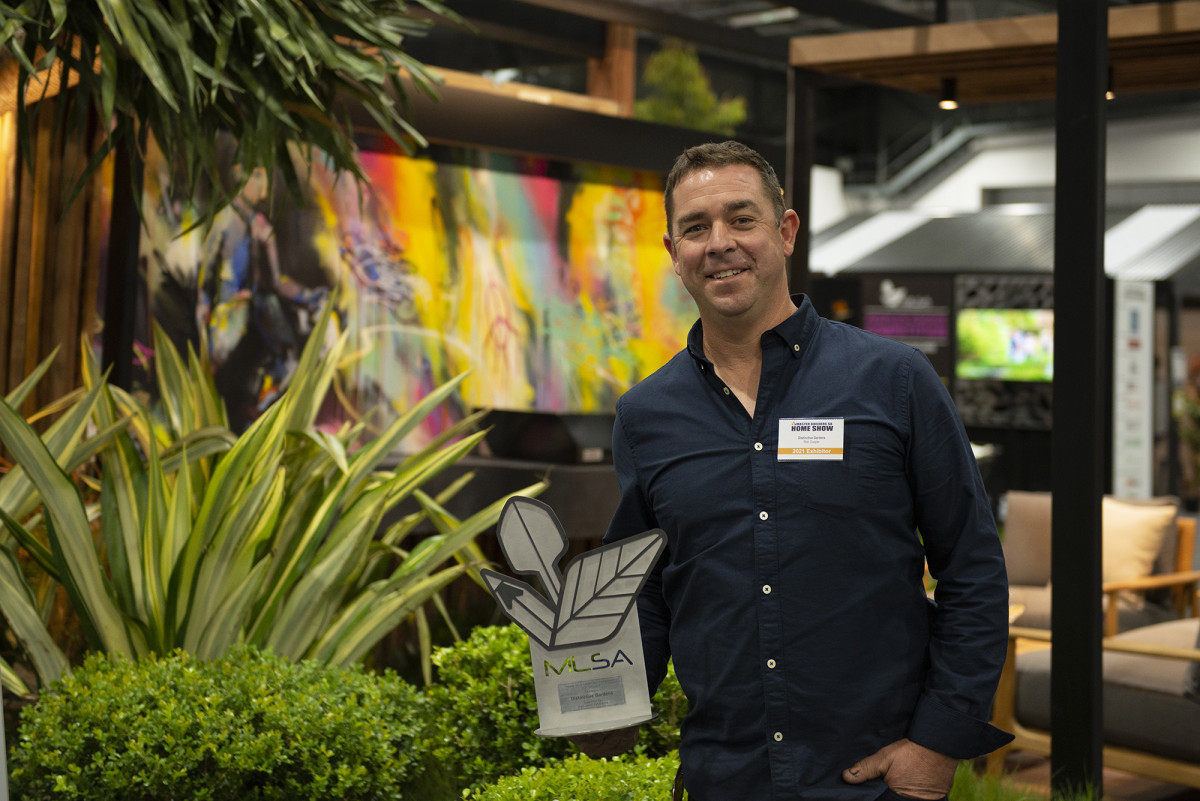 Can you please describe your winning landscape display?
The garden we developed for the 2021 Home Show was a modern and vibrant garden, which was developed around the central piece of art we had commissioned for the expo. We developed the surrounds using beautiful materials, textures, and layers in the space. I worked with Justin from Adelaide Outdoor Kitchens to develop the curved BBQ bench, the off-form timber patterned retaining wall and the stunning hand-made pink pot. Softwoods worked in with us by providing the timber for the decks and the stunning timber panelling on the walls and drop-down ceiling in the structure. I have been selecting the plants over the last several months to be able to have colour and vibrancy that draw from the artwork colours.
Why did you decide to participate in the Home Show Landscape Competition, and what did you get out of it?
The challenge I accepted in designing and building this display was that often landscape designers can play to the popular style of the time. I really like to be able to push the boundaries with design and show what's possible! But it can be a hard sell to put street art into someone else's project (until they've seen how amazing the colours can be!)
Our display area at the Home Show measured 6m by 4m. A lot of gardens and courtyard areas are no bigger than our display space.  As such, I wanted to show people how we create not only functional and usable spaces, but that gardens can be vibrant, colourful and enjoyable spaces to entertain in. Obviously, we entered the show to gain extra work, but we also used this to try to find clients who want something in their gardens that is individual and outside of the normal landscape design.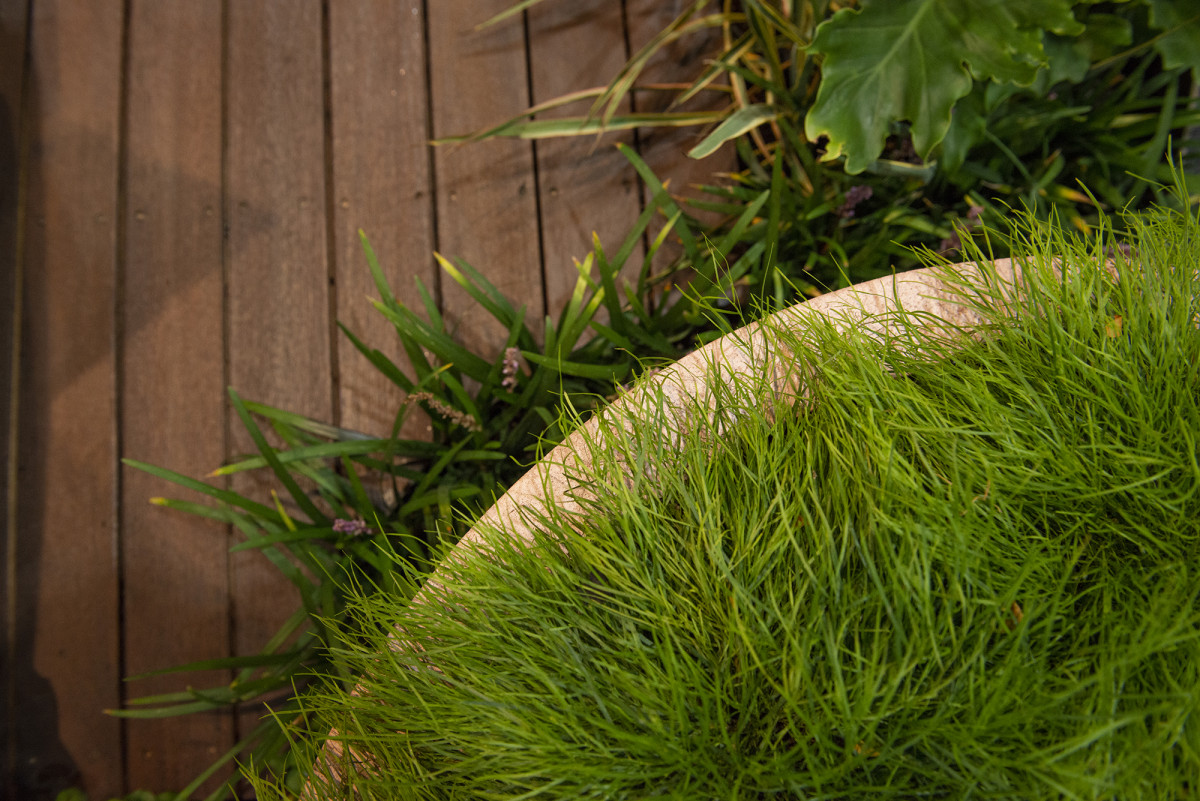 What was the process for designing and constructing your winning competition garden?
The process for my design was to put together a design or style of garden which Adelaide hasn't really seen before, and to show people what you can do in such a small area. The design was initially sketched out to produce the vision for the garden and then we produced working drawings for the build. I built most of the project in the workshop as it is a lot easier to make there than inside the showgrounds. Our display went together very quickly and as planned to allow us to be able to style and finesse the gardens. I made sure of the quality of the build as I am going to reuse the materials into my personal gardens in the coming months.
What were the main differences in designing and constructing a competition garden, as opposed to creating a space for a client?
The main difference was that I had free range on this project garden, without any parameters of scope or style. For years I've been thinking about a project with art as the central feature and this was the opportunity to do so.
What's your favourite kind of landscaping work?
Hard to say. I like to think we can design any style of garden for our clients. My favourite gardens always fall towards lush green gardens as the main centrepiece with softened hardscapes. I believe the gardens should be a timeless build and really fall in sync with the building's caricature.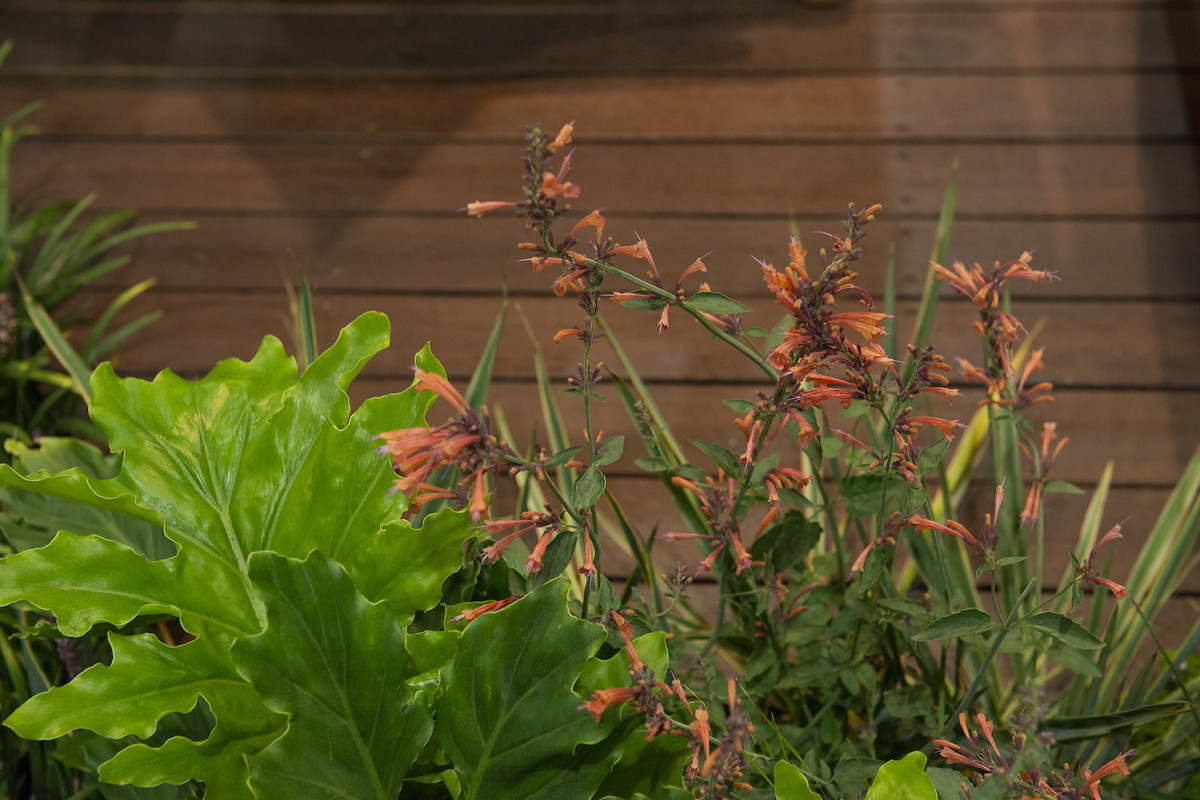 You've recently won the Judges' Choice Award, Residential Landscape Construction Exceeding $250,000 and the Residential Landscape Design Exceeding $250,000 Award at the 2020 MLSA Awards of Excellence and have become the inaugural winner of the Home Show Landscape Competition. What's next, and what advice would you give to others in the industry?
To say what's next, we will still work hard with our clients to produce stunning gardens with our team. I was lucky enough to build part of an Adelaide installation in the Venice Biennale in 2019, which was an amazing experience. We have successfully completed this build for the 2021 Home Show, and I really enjoy this process. I have always wanted to design and construct a show garden in the Melbourne International Flower & Garden Show so we will see what happens next on this journey.
Any Final Thoughts? Or, is there anyone you would like to thank?
I would really like to thank the MLSA and Kym Jones Exhibitions for putting together this event, along with the other MLSA Members who put in the same amount of effort as we did – Elite Outdoor Design & Construct, SA Waterscapes and Yardstick Landscapes, who all produced amazing gardens for the public to view.
I would really like to thank Adelaide Outdoor Kitchens and Softwoods as they really believed in the design and were prepared from day one to be a part of the build.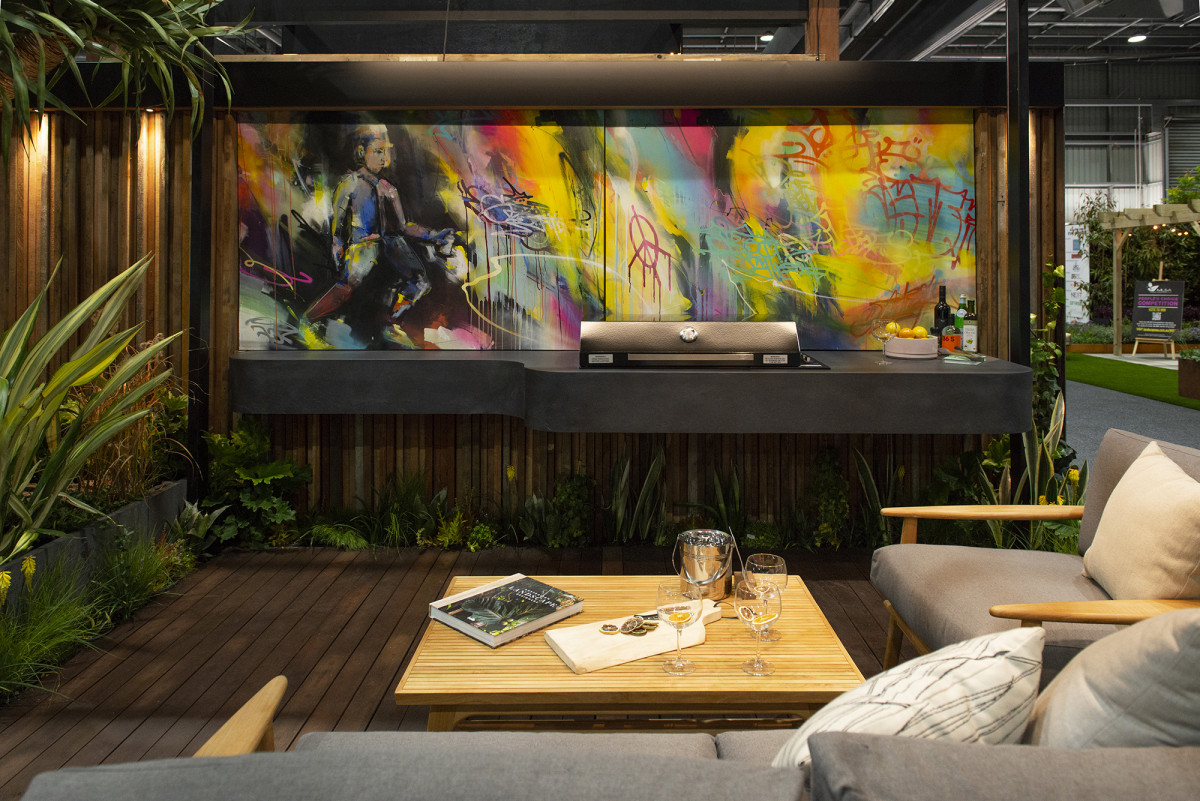 For further information about Distinctive Gardens please visit the Master Landscapers of South Australia website, where you can Find A Professional to suit all your design, construction, and maintenance needs.
The Master Landscapers of SA (MLSA) is the professional industry body representing Landscaping in Adelaide and regional South Australia.
We build capacity and capability across the industry, ensuring members deliver the highest quality standards and levels of professionalism for their customers.
We provide an essential role for members and customers alike. We provide knowledge and information to assist you in selecting and working with a verified Master Landscaper to improve your property value and lifestyle through providing services in landscape design, construction and maintenance.
For members, we provide professional development and skills enhancement to ensure they have the knowledge and information to always display the best practice demanded of a verified Master Landscaper.
Reach out to us today:
0488 300 922

Subscribe now
Subscribe Today!
Subscribe to South Australia's biggest-selling magazine, showcasing the best of Adelaide and South Australia.
From only $9 per issue
including free delivery to your door.