March 24, 2022
SPONSORED STORIES
Sitting in the lap of luxury
From commissions for luxury hotels to custom orders for individuals, Design Furniture is leading the charge in hand-crafted, upholstered furniture.
From commissions for luxury hotels to custom orders for individuals, Design Furniture is leading the charge in hand-crafted, upholstered furniture.
If you have ever luxuriated in the sumptuous armchairs at The Louise in the Barossa Valley, you will have experienced Design Furniture's superior and much sought after charms.
The company's retail and commercial clients read like a who's who of leading brands: David Jones, Domayne, Snooze, Forty Winks, The Qantas Club, The Hyatt, The Louise and premier health care provider Padman Group.
Production Manager Sandro Magnera says that given the artisanship and durability demanded by these names, it is unsurprising the upholstered furniture company has a following among homeowners too.
"We've been in business for over thirty years and the demand keeps growing," says Sandro.
"Our hand-crafted furniture is made here in Adelaide using Australian plantation, kiln dried timber.
"This process slowly removes the moisture from the timber, producing a better grade for furniture making."
Sandro says their timber is sourced from companies that do not contribute to deforestation or destruction of the natural environment. Similarly, the fabrics are responsibly sourced from certified fabric mills both in Australia and around the world.
The company also uses commercial grade non-toxic foams endorsed by the Good Environmental Health Choice Association.
"Many inferior furniture products – especially imported ones – use harmful toxic foams, which slowly leach out and can damage respiratory and digestive health," explains Sandro.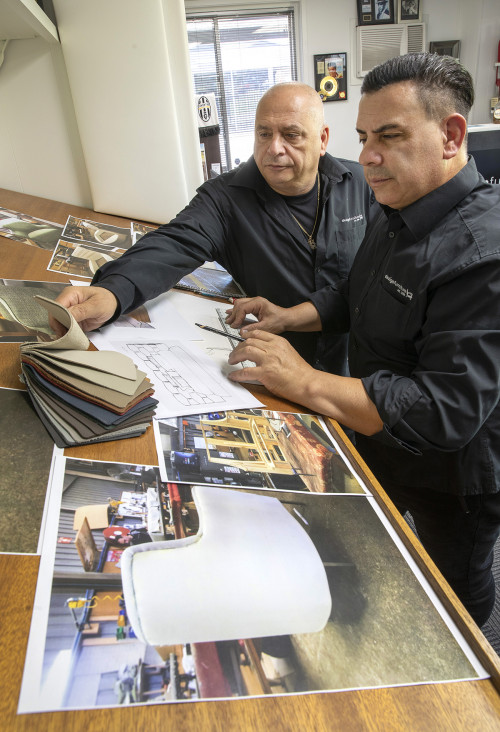 "We're always researching and sourcing new technology and improved materials.
"Later this year, we're planning to release an eco-friendly, plant-based product for seat and back cushions."
Individuals looking to commission an item from Design Furniture are treated with the same attentive care as any corporate client, with the in-house design team liaising throughout the process.
Sandro says clients can browse through the 200 square metre showroom, which includes six bays dressed to display furniture in classic and contemporary settings. The company's sample sofa is a unique and valuable tool for clients to experience their furniture before they buy.
There is also an extensive fabric library that is continually updated with the latest in textile trends and finishes, and a private board room where clients can discuss their project over a cappuccino, made by Design Furniture's own baristas.
Clients are treated to a preliminary fitting before the sofa is upholstered to double check specifications are accurate and to iron out any possible issues prior to the upholstery process.
In 2021, Design Furniture celebrated 35 years as one of Australia's industry leaders in the design and manufacture of upholstered furniture.
It is a family business run with a staff of 25, national agents in NSW, VIC, QLD and WA, and a team of skilled makers, many of whom have worked with the company for the last three decades.
As Sandro explains, the company was established in 1986 by the original owners Fred and Carol Schmidt and Bruno and Tina Damin. They set up business in the back yard of Bruno and Tina's Payneham residence before moving to the factory and small showroom in Newton.
"Fred and Bruno were both skilled in the design, cutting and art of upholstery," says Sandro.
"They shared a meticulous eye for detail and were well known in our industry for producing superior quality furniture."
A decade later, Design Furniture opened their new headquarters in the commercial precinct of Jacobsen Crescent, Holden Hill.
In 2005, both men retired and Sandro and his wife Lisa became the new owners.
"Lisa and I had worked together the previous year on a new armchair design inspired by the Danish design resurgence beginning overseas," says Sandro.
"When we took over the company, that Pelle chair became our best-selling chair for the next decade.
"It really symbolised our collaboration, so eventually we used it for our rebranding."
Since then, Sandro's elder brother Angelo and his wife Jenny have become co-owners of the company.
"Angelo has an incredible amount of knowledge that he learned from Renato, Bruno's father," says Sandro.
"You know, Renato lived and trained in Venice.
"So, with every piece we custom-make, we're also keeping alive the skills of the great masters of furniture making."
Explore Design Furniture's collections or learn more about their custom-made furniture.