From camp to glamp
These glamping safari tents in Victor Harbor offer a luxury camping experience right on nature's doorstep.
When it comes to a family holiday adventure with plenty of novelty factor, the safari glamping experience at Victor Harbor ticks all the boxes.
The tents are situated on the waterfront at the NRMA Victor Harbor Beachfront Holiday Park and offer a high-end holiday feel, but with a rustic edge.
There are six tents, all boasting sea views out to Granite Island, as well as direct access to the beach and seaside walking path.
The tents are situated in a semi-circular formation and face into a communal area with a pizza oven and plenty of outdoor seating to take in those views.
The first clue that this is going to be a novel experience is the luxurious outdoor baths that sit on the front deck of each safari tent – perfect for those who are happy to soak in the views as they soak in the tub.
For those not so brave to bare – there's always the option to wear your bathers in the bath and still enjoy the experience – like our 12-year-old son did!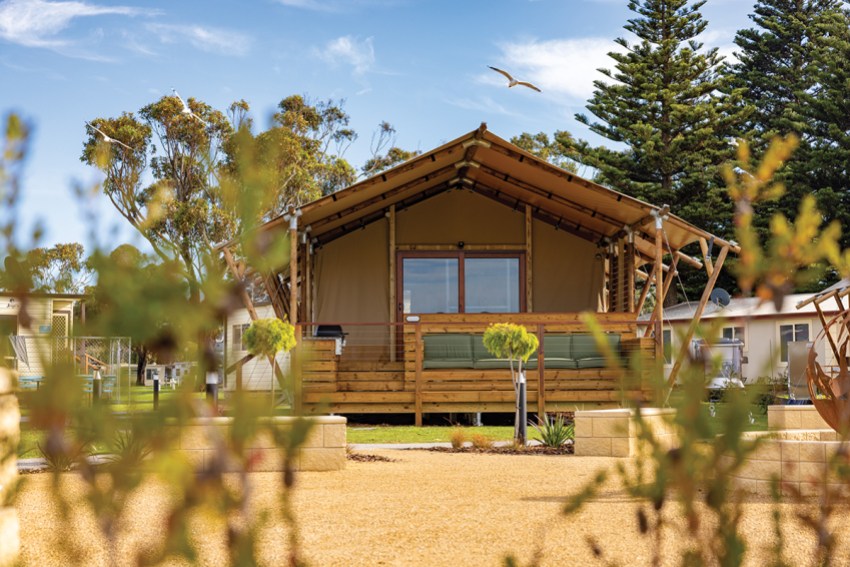 But it's when you step inside these eco-friendly tents that the full impact of the glamping experience is truly realised.
The rustic wooden interiors meld with the canvas cover that stretches around the frame of these "tents".
A four-poster bed offers luxurious comfort while, for the kids, a novelty bed nook has been crafted into one of the walls, giving a cosy, cubby-like feel, complete with a canvas curtain that drops down. 
Layouts of each tent vary but each sleeps a maximum of four people, and two of the tents boast accessible facilities, making the safari tents an easy option for families with little ones or travellers with mobility challenges. The two accessible tents are connected by a ramp and are often booked out together for group getaways, according to the holiday park manager Rowan Miles.
"We see multigenerational families travelling together using the family tents and accessible tents," Rowan says. "We have had family groups book all six tents for diamond anniversaries or family reunions."
The tents were completed thanks to a grant issued by the South Australian Tourism Commission's (SATC) Tourism Development Fund to help tourism businesses bounce back from pandemic-era travel restrictions.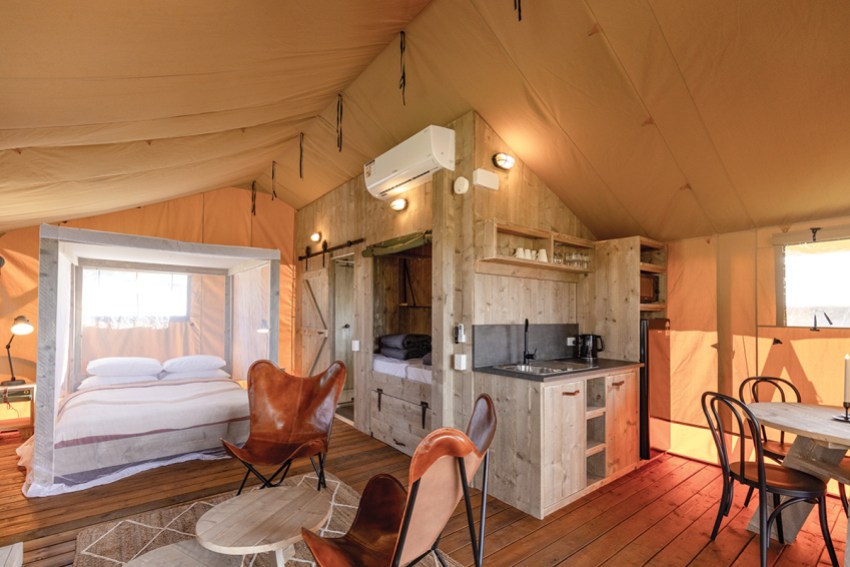 They were built by Victorian company Glam Xperience but local tradies were also used in the construction. The safari tents officially opened to the public in late 2022 and have proved popular as an alternative to regular caravan and camping options.
But, while they offer plenty of luxe, the tents still provide some authentic back-to-nature experiences, like being able to hear the breeze blowing against the canvas during the night, and waking up to hear the magpies singing each morning.
More luxury with the bathroom facilities too – no need to brave the ablution block for this camping experience – the tents boast decent sized bathrooms complete with linen and complimentary soaps and shampoos.
Other luxuries that take this from camp to glamp are kitchen and living amenities including fridge, microwave and television. The glamping tents also feature heating and cooling, providing comfort for most of the year, although they may be less comfortable in extreme weather situations. A small electric "faux fire" in the main living space gives a lovely red glow and adds to the camping feel.
A Weber barbecue on the two-tiered front deck allows for cooking with a view, and a full bench seat is perfect for little ones to sit and eat their sausage sandwiches and enjoy the surrounds.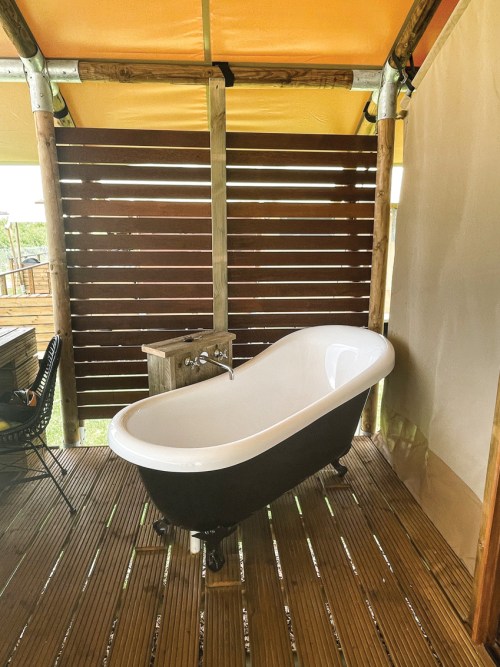 But it's the location of these glamping tents that really adds to this experience – the park is bordered by the Inman River – also known by First Nations name, Moo-oola, with plenty to explore in the area including the Encounter Marine Park's thriving wildlife.
The park's child-friendly amenities provide loads of options including a water park, pool, jumping pillow and pump track for little scooters and bikes.
The park itself is in close walking distance to a supermarket and shops, or for those willing to go a bit further, it's an easy walk to all that Victor Harbor has to offer, including Granite Island.
The glamping safari tents start at around $220 per night for two guests (in the low season). Long weekends have a minimum booking of three nights, weekend stays require a minimum booking of two nights but weekdays can be one.
The safari glamping tents are popular though, so it is recommended to book as far in advance as possible.
SALIFE stayed at the NRMA Beachfront Caravan Park Victor Harbor as a guest of management.
This article first appeared in the April 2023 issue of SALIFE magazine.
Subscribe now
Subscribe Today!
Subscribe to South Australia's biggest-selling magazine, showcasing the best of Adelaide and South Australia.
From only $9 per issue
including free delivery to your door.