Weddings: International connection
Age-old cultural traditions from around the world were celebrated in these blissful South Australian weddings from the past year.
ADORNED IN ROYAL DRESS
Photographs Marie Pittman from Lifesketch Weddings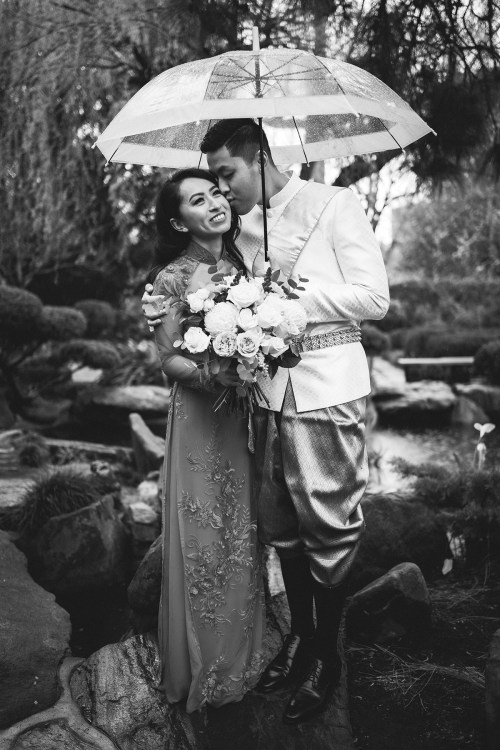 Lan Tran and Vanna Thach's relationship was first sparked by a serendipitous connection when Lan joined Vanna's mixed basketball team through a mutual friend in 2014. Lan and Vanna wed in September last year with a ceremony at St Laurence's Catholic Church followed by a reception at San Giorgio's Payneham.
Lan and Vanna's wedding celebrations marked a union of their respective Vietnamese and Cambodian backgrounds. The couple had planned to host a Vietnamese tea ceremony for 200 people at Lan's sister's home but it had to be cancelled because of restrictions.
"Unfortunately, our tea ceremony was cancelled because of COVID," says Lan. "However, our traditional custom-made outfits were not going to waste … we had to do a photo shoot! The bridesmaids and I wore the Vietnamese áo dài and Vanna and the groomsmen wore the Cambodian sompot chong kben.
"Embracing traditional clothing meant a lot to us. Some of our families were present at the traditional clothing photo shoot and the groomsmen especially loved getting dressed in their sompot chong kben."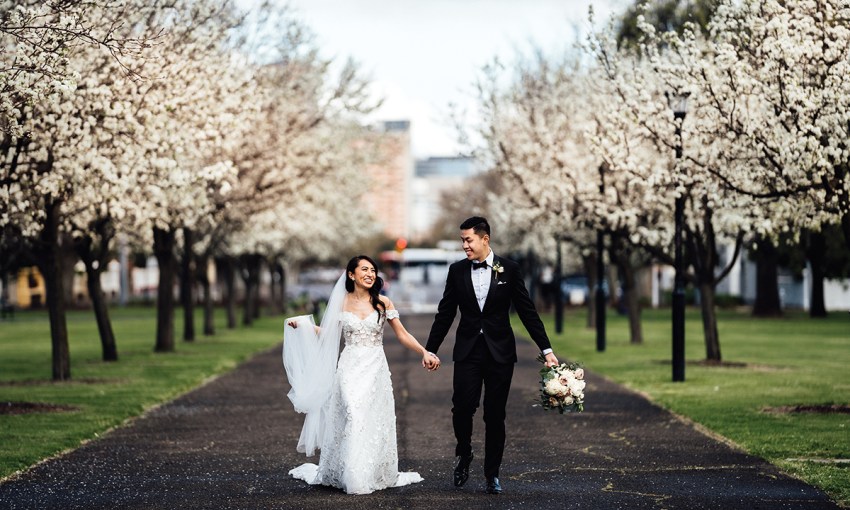 Colourful clothing is customary for Vietnamese weddings, both for the wedding party and the guests. The bride and bridesmaids' outfits were sourced from Vietnam and were organised by Lan's mother. In Cambodia, the groom traditionally wears gold, jewellery, a belt, and white or the colours of royalty – a tradition replicated by Vanna and the groomsmen.
The wedding party underwent a wardrobe change into western wedding garb before the ceremony and Lan and Vanna knew it was always going to pose a challenge to the timing of the day.
"We knew the time required to change would be an issue as we had experienced this being part of bridal parties at friends' weddings," says Lan. "On our wedding day, the change was good because some of our clothing had been soaked from the rain.
"We were running behind schedule and had little time to eat lunch; the girls ate and changed as fast as they could. There was less time for photos before the ceremony too, but this was no surprise. We somehow knew it'd happen even after adding extra time in the schedule prior to the wedding."
The wedding was topped off with the unique twist of a croquembouche wedding cake from Muratti Cakes & Gateaux.
CHERISHED MOMENTS
Photographs Simon Bills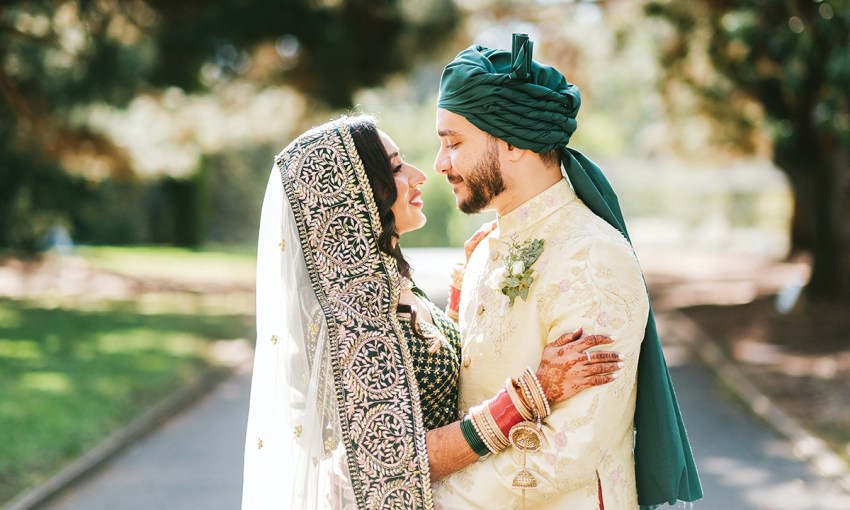 Harshita Gupta and Rohan Dhir first met eyes in the University of Adelaide's engineering building. They were introduced through common friends and developed a friendship that grew into a love for each other's quirks and appreciation of the differences in their personalities.
The couple were married in April, 2021 with a week-long celebration. Both the bride and groom were born in India to Hindu families, so the wedding incorporated aspects of both Indian and Australian culture. Their Hindu wedding culminated in a ceremony at the National Wine Centre.
"Our guests were excited and very supportive throughout the whole week and months leading up to the celebrations," says Harshita.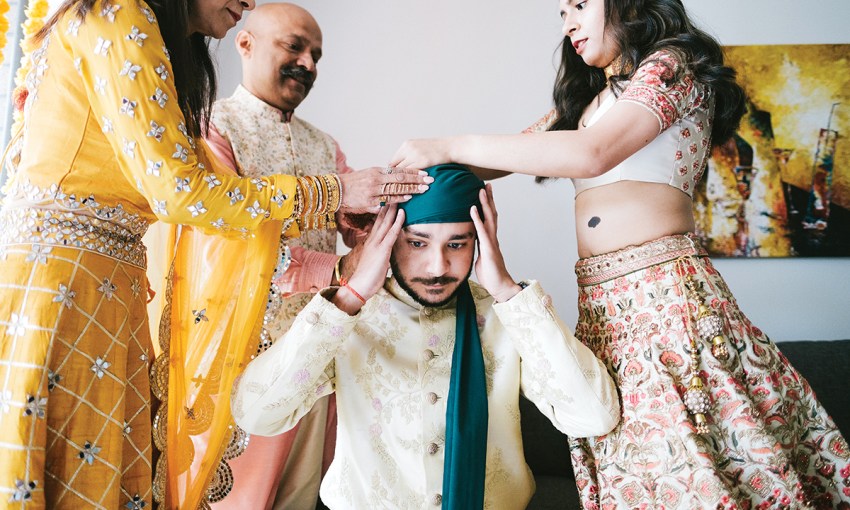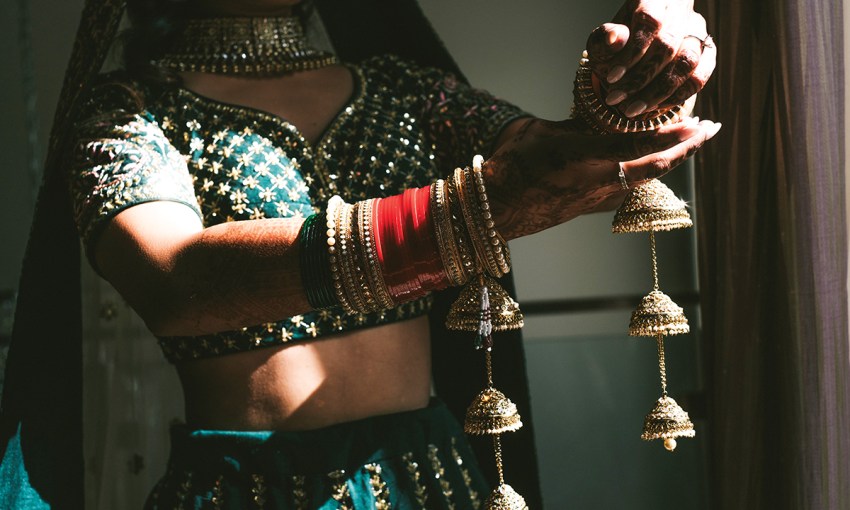 "It must have been a very different and interesting experience for them as many had never attended an Indian wedding before – let alone a wedding that lasted a week!"
An event called Sangeet was held to kick off the week of celebrations, filled with choreographed dances from close family and friends. A haldi (turmeric) ceremony was staged to purify and cleanse the bride's skin in preparation of the wedding day. This saw mendhi (henna) applied to Harshita's hands and feet to signify her preparations for the marriage.
Rohan arrived to the ceremony in a traditional Baraat wedding procession of singing and dancing. A Hindu ceremony was conducted in the gardens of the National Wine Centre, where the couple took their vows in the presence of a small fire to invite the Hindu gods to bless their marriage. Then a civil ceremony saw the exchange of vows, rings and signing of the marriage certificate.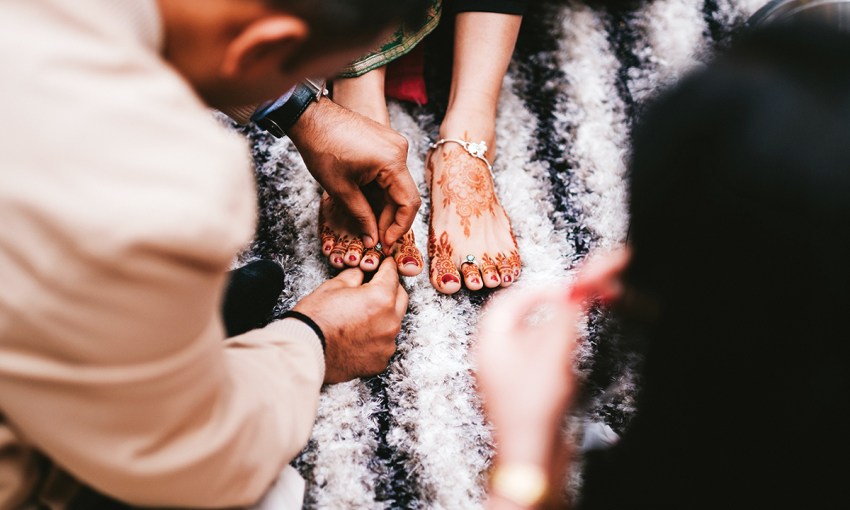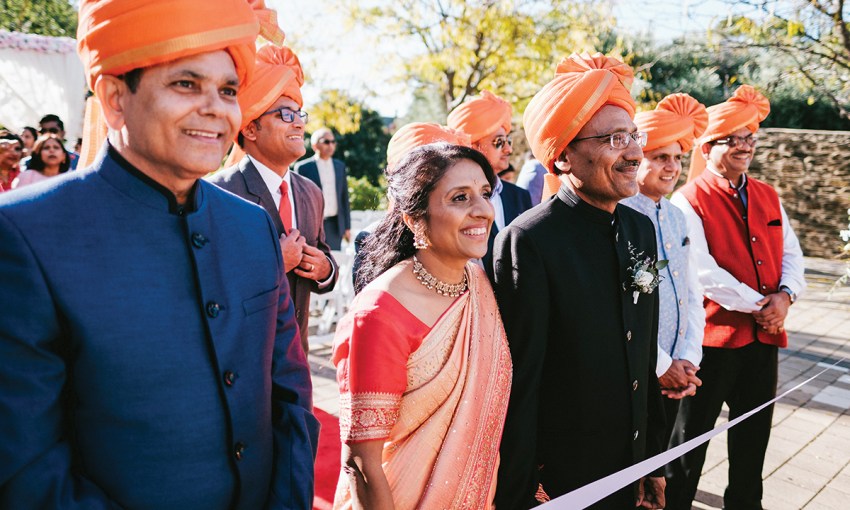 One of the couple's favourite moments was the tradition whereby the bride's sisters and girlfriends steal the shoes of the groom, so he can't run away with their dear sister. After the religious ceremony, the groom needs to bargain and bribe the sisters to return his shoes so he can leave with his wife.
"It created a fun environment of mischief and friendly banter at a time when emotions were heightened for all of the family awaiting the departure of their daughter," says Harshita.
"Watching family and friends get involved in the celebrations, from the hours of practise for the choreographed dances to the emotions and speeches on the day, really warmed our hearts and made each moment really special for us. Being surrounded by our close family during each ceremony created moments we will cherish forever."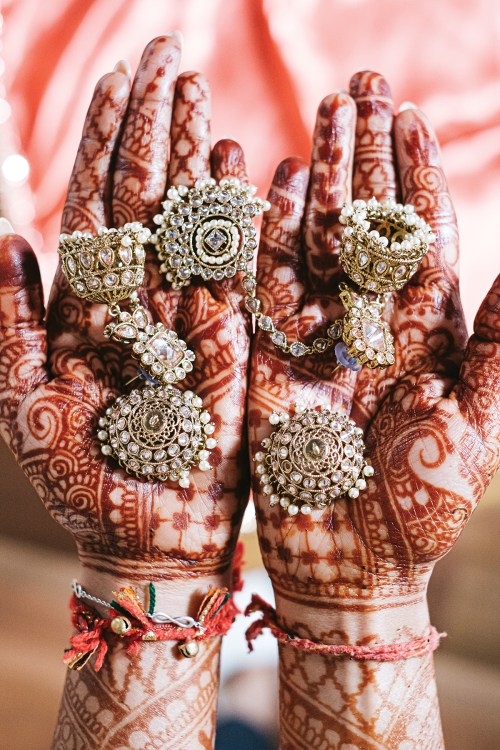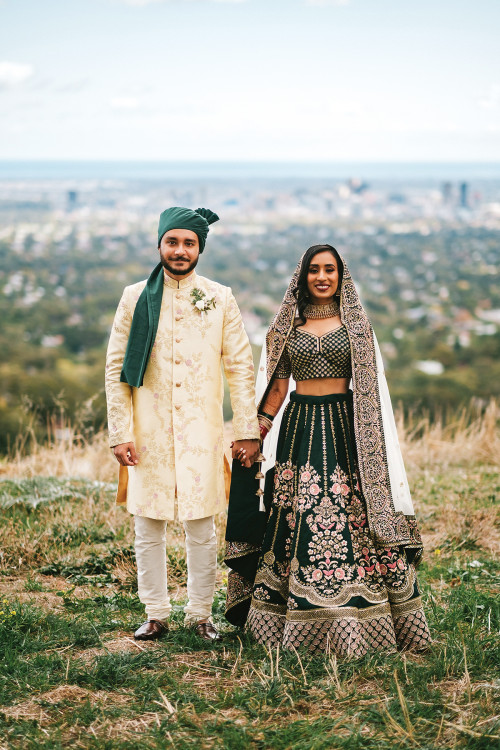 A LION-HEARTED RECEPTION
Photographs Anke Bester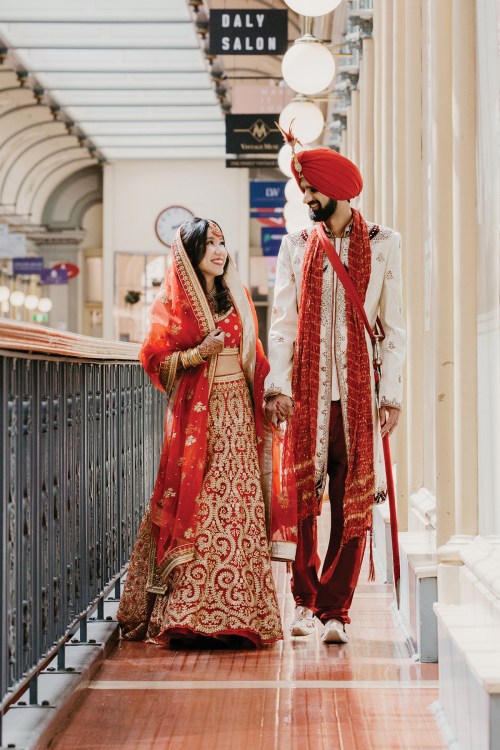 Cultural traditions including Punjabi drummers and Chinese lions added both a sense of ceremony and fun vibrancy to the wedding of Indian-Chinese couple Gavin Sidhu and Lifen Ma in October 2021.
Gavin was born in Australia to Punjabi parents from North India, while Lifen was born in Shenzhen, China, with her family being Teochew people. The couple met in December 2019 and their relationship developed quickly.
Because of the border closures, many international and interstate family members were not able to attend but instead watched a live stream on Zoom. Incorporating cultural elements helped Gavin and Lifen to engage with family and friends who helped to choose and purchase their outfits and decor, sending them to Australia from overseas.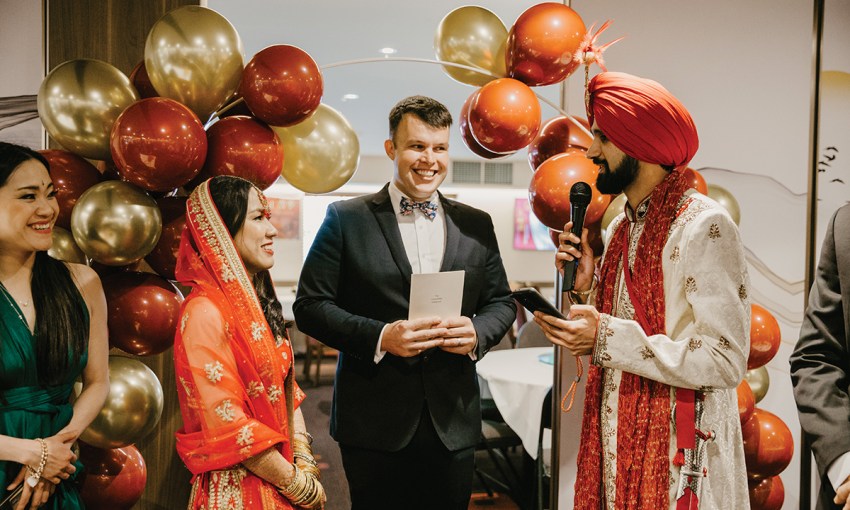 A Punjabi wedding ceremony featured traditional wedding clothes including a turban for the groom and a performance by Indian Dholki drummers while the bride walked down the aisle. The drummers also performed for the first dance.
Their reception featured traditional Chinese customs where the bride and groom entered with the escort of two Chinese lions and musical performers. There were smiles all round as the lions tied up the couple to signify their marriage before Gavin and Lifen then used large wooden poles to feed lettuce to the lions to help increase their good luck.
"Unfortunately, all friends and family from overseas and some from interstate had been unable to attend our joyous occasion," says Lifen.
"Our wedding was always going to be an emotional day, knowing our overseas family members were watching on Zoom. The fact they had helped pick out our outfits and decor really created a connection with those that couldn't make it."
On reflection, the couple is happy they decided to incorporate both cultures equally but separately with an Indian wedding and a Chinese reception.
"The guests were thrilled with the cultural elements of our wedding, some dancing along to the Dholki drummers during the ceremony, and the children, in particular, being enthralled with the entrance of the lion dancers."
This article first appeared in the March 2022 issue of SALIFE magazine.
Subscribe now
Subscribe Today!
Subscribe to South Australia's biggest-selling magazine, showcasing the best of Adelaide and South Australia.
From only $9 per issue
including free delivery to your door.