Recipe: Grilled saffron poussin with lemon, chilli and mint
Friends are always thrilled to receive a lunch invitation from super-hosts Peggy and Darian Byrne for some delicious home cooking.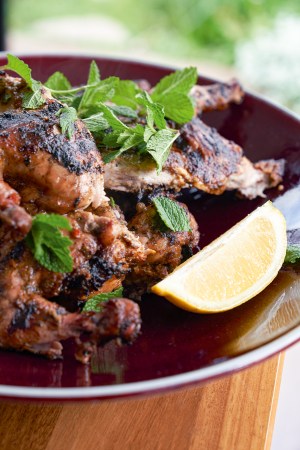 Grilled saffron poussin with lemon, chilli and mint
Adapted from New Middle Eastern Food by Greg and Lucy Malouf
800g boneless free-range poussin thighs, trimmed of excess fat
watercress sprigs and wafer-thin slices of French radish, to serve (optional)
rice or couscous, flatbread and lemon wedges, to serve
lemon, chilli and mint marinade
1 cup loosely packed mint leaves
2 long red chillies, finely chopped
1 dried red chilli, finely chopped
3 garlic cloves, finely chopped
50ml olive oil
2 tbsp saffron chelow
2 lemons, grated zested and juiced
1 tsp ground cardamom
generous pinch dried mint
yoghurt dressing
1 tbsp olive oil
1 garlic clove, crushed with ½ tsp sea salt
¼ tsp ground turmeric
200ml thick natural yoghurt
squeeze of lime juice
Cut the poussin thighs into large chunks and put in a large bowl. Combine the marinade ingredients in the bowl of a food processor and whiz to a paste. If you prefer, you could, of course, do this by hand using a mortar and pestle. Pour the marinade over the chicken pieces and toss to coat thoroughly. Cover and refrigerate for at least 1 hour.
To prepare the yoghurt dressing, heat the oil in a small frying pan and fry the garlic paste gently until soft but not browned. Stir in the turmeric and fry for 5 minutes then remove from the heat and cool briefly. Stir into the yoghurt with a squeeze of lime juice. Set aside until ready to serve.
When ready to cook, preheat your barbecue or griller to high. Grill the poussin for 2-3 minutes on each side, or until lightly charred and good and sticky. Alternatively, you can cook it in a stove-top chargrill pan.
Arrange the poussin pieces on a serving platter, garnish with watercress sprigs and radish wafers, if using, and serve with lots of yoghurt dressing.
This recipe first appeared in the November 2020 issue of SALIFE magazine.
Subscribe now
Subscribe Today!
Subscribe to South Australia's biggest-selling magazine, showcasing the best of Adelaide and South Australia.
From only $9 per issue
including free delivery to your door.