February 11, 2022
Wine & Dine
Summer in the vines
Step into the sun and bask in a magical Barossa afternoon that Alice MacGillivray has curated for her friends.
The fresh green of the vineyard cuts into the blinding blue of the sky as a procession of guests make their way up the hill to the long table sitting at the top.
In their hands are all the things needed for an afternoon in the Barossa sun; plenty of wine, overflowing platters of food and pretty poseys.
Their host Alice MacGillivray is enjoying a rare moment of calm after the storm, quite literally in this case. Just a few days prior, heavy rain and hail lashed the region, flooding Alice's Tanunda linen shop, Bright Threads, and damaging her Nuriootpa home. However her lunch party with friends had already been planned and so the show went on.
"The way the community can scoop you up and give you a big hug and help you get to the finish line is just amazing," Alice says.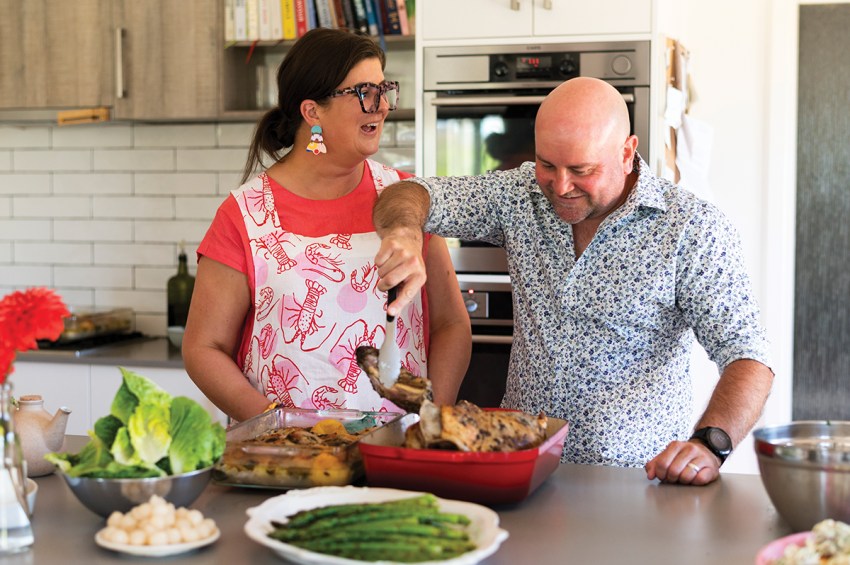 When water began seeping into the shop, the community rallied with their brooms and kept it as bay as best they could. The products in the shop were ruined, but everything in the stockroom was saved thanks to Alice's friends and neighbours.
And the kindness didn't end after the rain ceased. The day before her lunch, Alice saw Hutton Vale's Caitlin Angus at the local farmers' market and reminded her an invoice hadn't been included with the lamb she'd gone out of her way to deliver to Alice's home. "She said to me, 'There is no invoice'. It's not just her who has done that."
The Hutton Vale lamb is just one of the dishes on today's menu, which also features an impressive smoked salmon, roast chicken chops and Alice's husband Daniel "Matchy" Mattchoss's famous roast potatoes.
Alice sits comfortably in the role of host. She seems to have found the sweet spot between getting things done and having fun. In the middle of the two lies delegation and her friends are trained so well Alice doesn't even need to ask.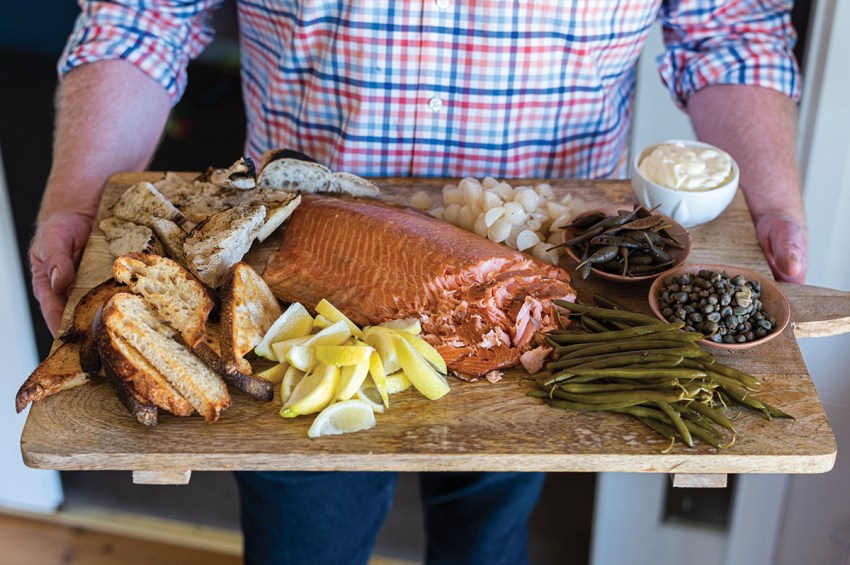 Interior designer and stylist Chelsea Honner has taken the lead with the decor, including the vases filled with blooms in intense pops of coral, orange, yellow, pink and red.
Alice's friend Tom Parbs is getting the baked cheesecake he made ready to serve. Alice is used to Tom dishing out incredible food – they met at the Adelaide Central Market, where Tom works at Lucia's Fine Foods.
"Tom put Lucia's on the map with his rolls," Alice boasts.
The foodie friends don't stop there. Responsible for the smoked salmon is Jono McLachlan, who went from being a banker of 21 years to starting McLachlans Smokery thanks to COVID. In his smokehouse, you'll find salmon, Coorong mullet and snook, and it seems it runs in the family. Jono's grandfather started Chapman's Smallgoods and taught him how to cure and smoke protein.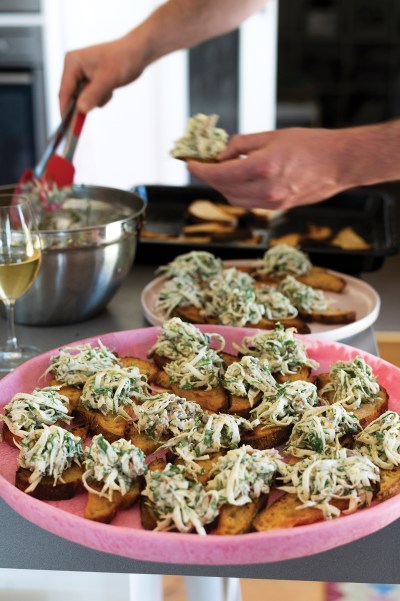 "I've been playing around with that in my shed for 20 years and then started heading towards fish, because one day I caught a heap of tommies and was trying to figure out what to do with them," Jono says.
As he flakes the salmon on the charcuterie board, Jono recommends trying the fish on a crisp with beetroot hummus and dill and parsley aioli. Today, the guests happily heap the salmon onto charred bread with aioli and generous squeezes of lemon. Just the right creaminess and zing to play with the clean, fresh and delicately smokey flavours.
The menu is flavoursome but uncomplicated – precisely the kind of food Alice loves to present.
"Dumb it down," Alice recommends. "People love simple, good food. It doesn't need to be challenging. Your guests reflect your mood in the kitchen and if you're feeling anxious about cooking, nobody is going to have a good time."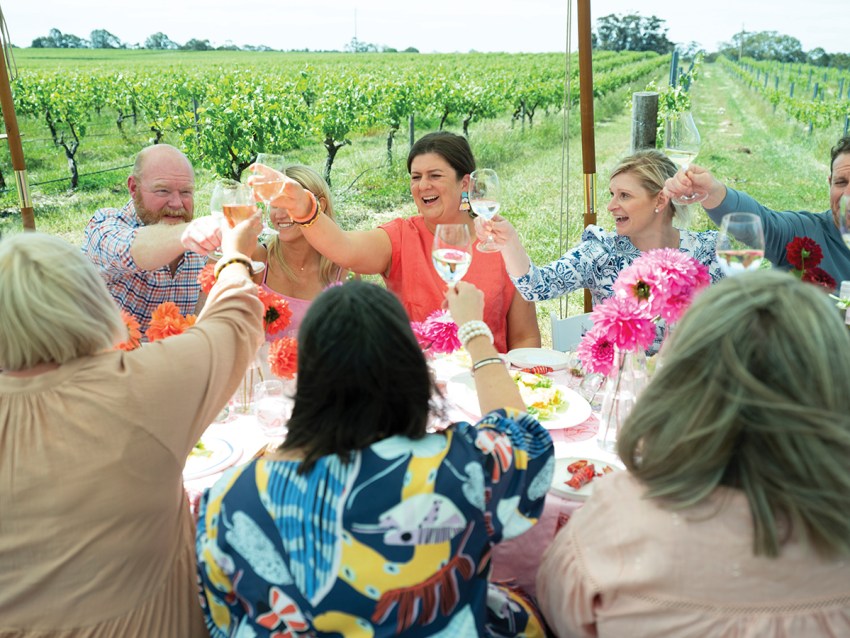 Alice's cooking style happens to be the polar opposite of Matchy's. "My husband and I are quite a funny duo. He will really stick to a recipe," Alice says.
"He has a thermometer to go in the meat and times it all. I just throw it all in and see what happens. He gets so frustrated with me because I'll pull something out and it's delicious."
Christmas is a big deal for Alice and this time of year is all about bringing in the orphans. "It's about having people I love there. It's not necessarily about blood relations."
Christmas day typically means a pork done by Matchy and Alice's ham with chilli, marmalade and bourbon.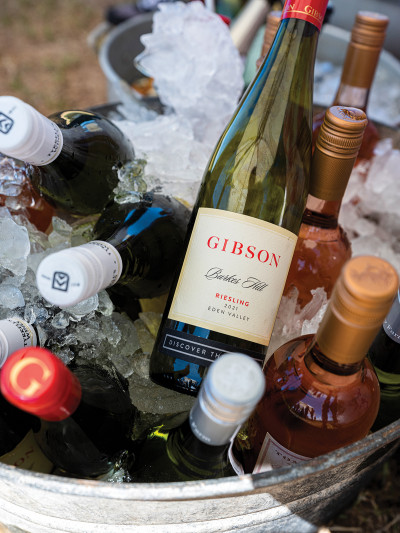 Nobody comes with empty arms; desserts, wine and cheese are quickly covered. "As long as I've got a bottle of Champagne in the pantry so I can escape my family with a quiet glass, I'm okay," Alice laughs.
Entertaining runs in Alice's blood. She remembers her mother, Mandy and father, Duncan – founder of one of the first alcopop brands, Two Dogs – throwing outrageous dinner parties in the '80s.
"In the weeks leading up, they'd be polishing the silver and Dad would be in the cellar curating the wine list," Alice says.
"It was about the next morning for me. Mum and Dad were obviously hungover as hell and there was a wafting smell of cigars. I'd be trying to find an After Eight mint and the table would be all dishevelled with cigarette butts in the coffee saucers and wine glasses tipped everywhere.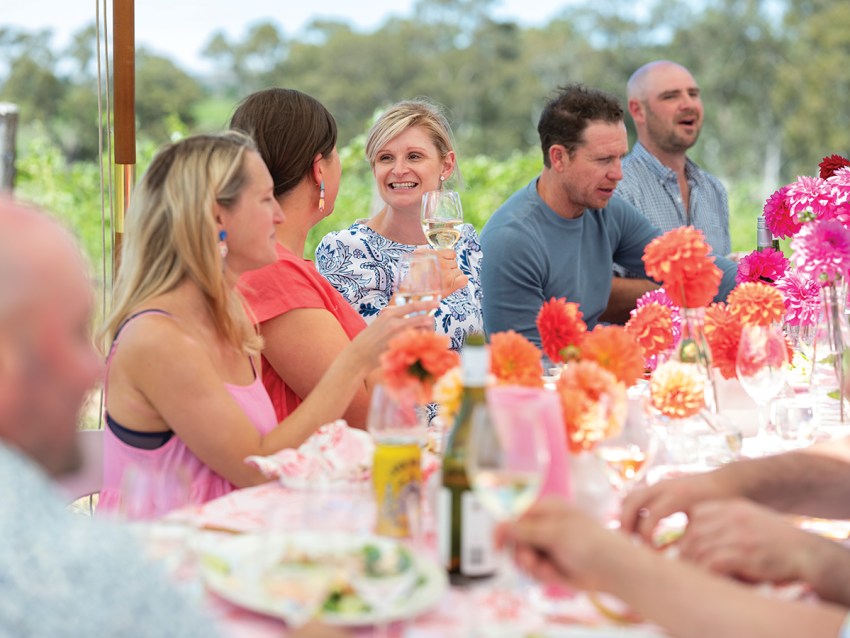 "When you think about old-school dinner parties, nobody throws them like they did in the '80s. They're great memories for me."
It's that nostalgia and nurturing of the unforgettable nights that Alice hopes to recreate with Bright Threads.
"Your tablecloth holds memories from Christmases and birthdays and dinners with friends. Every time you open that cloth, you get reminded of them; you open it up and go, 'Remember that Christmas?'. They're memory capsules."
Alice has found harmony between beautiful linens and eye-catching designs. She was renovating her home and went on the hunt for good quality linens that didn't feel like they belonged in the home of somebody's grandmother.
"If I found something with a great print, the quality wasn't that great. If you wanted everlasting tablecloths or napkins, you had plain white or something very old fashioned."
At the time, she was a wine rep on maternity leave. While at work, she was commuting to and from Adelaide every day but, once she had her daughter Skye, she just couldn't do it anymore.
So, she made a go of the linen, and says she still remembers her husband's face when she told him she was giving up her successful career to make tablecloths. She may laugh about the moment, but Matchy insists that even then, he knew nothing was going to stop his wife.
"Alice is just a hard worker and puts her heart and soul into everything she does," he says. "She's an entrepreneur – she's her father's daughter. You can't keep her away from new things and when she came up with this, I couldn't say anything but 'Go for it'."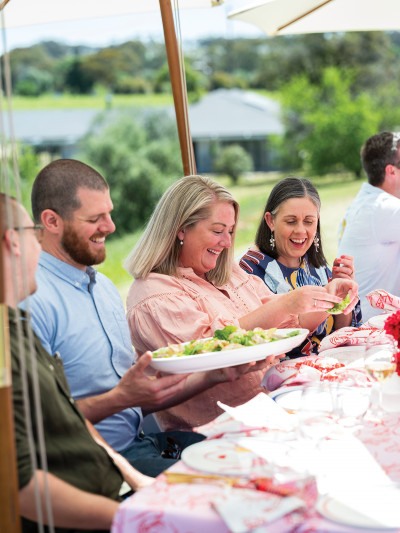 And go for it she did.
Alice's pieces are fun and vibrant; Australian florals in pretty pastels and more restrained block patterns that remain classics among any of her other collections. The Orchard Series is an ode to her dad and his love of long lunching.
Three years prior to starting the business, Alice was on a family holiday in Bali in 2014 when her dad passed away suddenly while they were overseas. Alice now has her products manufactured in Bali, giving her the perfect reason to take her kids there for a holiday while she works.
"I'm not a spiritual person at all, but I do feel like Dad is still there, and so it gives me this opportunity to be with him."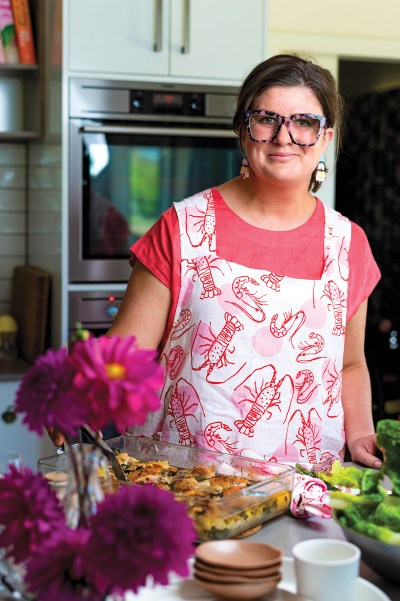 Alice says she gets the odd comment about the choice to manufacture there and not in Australia.
"I do work in the best ethical practices I can; I repurpose all the scrap fabric. Nothing goes to landfill. I work with small family-owned businesses. Right now, Bali is just in a world of pain and they need the money as much as we do. A lot of people seem to have an opinion about manufacturing overseas, but I have a story behind why I do it.
"What Dad was able to do with his life was incredible and what he gave to South Australia was incredible.
"I wish he was here to see this. He is a huge inspiration. Both of my parents are."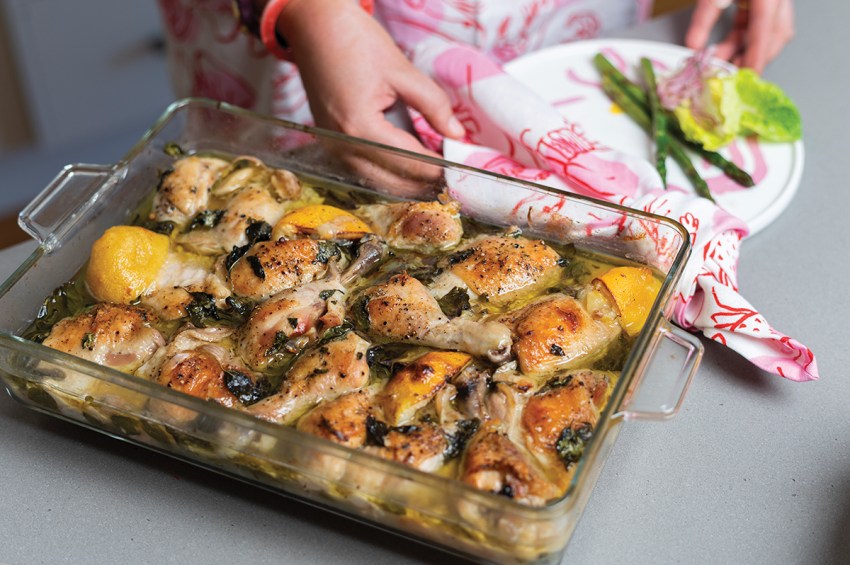 On the back of the packaging on Alice's tea towels are the words, For my dad, who was always seen with a tea towel flung over his shoulder.
As for her napkins and table linen – those are an ode to her mum. For my mum, who taught us the importance of table etiquette and the art of polite conversation, 'You never know when you will be dining with the Queen.'
At the top of the hill, the table pops with vibrant red and pink – the table cloth from the Summer Series features fun crayfish prints. It suits the atmosphere perfectly.
"I love pink and red together. I love the idea that you've got this special tablecloth that comes out at Christmas or summer," Alice says.
As the afternoon turns into evening, Alice and her friends pour memories of a perfect Barossa moment into the tablecloth, ready to be evoked next year.
This story first appeared in the December 2021 issue of SALIFE magazine.
Subscribe now
Subscribe Today!
Subscribe to South Australia's biggest-selling magazine, showcasing the best of Adelaide and South Australia.
From only $9 per issue
including free delivery to your door.