Recipe: Pineapple and ginger upside-down cake
Help the kids to make dessert this weekend with this fun and easy recipe from Callum Hann.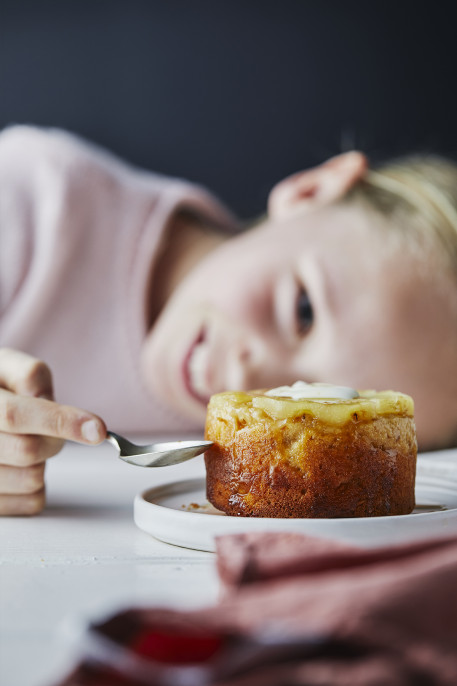 Pineapple and ginger upside-down cake
Serves 4
1 egg
¼ cup olive oil
¼ cup honey
1⁄3 cup reduced-fat Greek yoghurt, plus ½ cup extra for serving
¼ cup desiccated coconut
¾ cup self-raising flour
½ tsp ground ginger
pineapple syrup
¼ pineapple, peeled, cored and cut into 4 x 5mm thick slices
¼ cup honey
1 cup water
thumb-sized piece of ginger, thickly sliced
Preheat oven to 180. Grease four 1-cup capacity ramekins.
To make the pineapple syrup, place the pineapple, honey, water and ginger in a small saucepan over high heat. Boil for 5 minutes or until the pineapple is tender. Carefully remove the pineapple slices and set aside to cool slightly. Return the syrup to the heat and boil for another 5 minutes or until thickened slightly. Remove and discard the ginger.
Combine egg, oil, honey and 1⁄3 cup yoghurt in a large bowl. Whisk until well combined. Fold in coconut, flour and ground ginger until just combined.
Arrange pineapple slices in the bottom of the ramekins and pour over half the syrup. Divide the cake batter between the ramekins. Bake for 12-15 minutes or until a skewer inserted into the cake comes out clean. Turn the cakes out onto serving plates, pour over the remaining syrup and serve with a dollop of yoghurt.
This recipe first appeared in the August 2019 issue of SALIFE magazine.
Subscribe now
Subscribe Today!
Subscribe to South Australia's biggest-selling magazine, showcasing the best of Adelaide and South Australia.
From only $9 per issue
including free delivery to your door.