Recipe: Roasted pumpkin with black rice and tangerine tahini sauce
Hilary Mitchell's mouth-wateringly melty camp oven pumpkin is a plant-based food goal. And yes, you can use a conventional oven.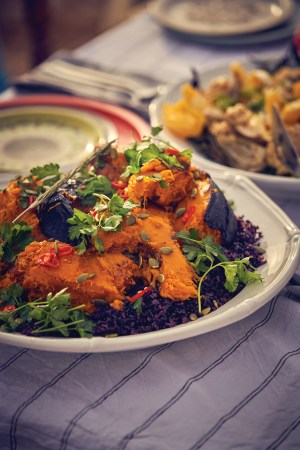 Roasted pumpkin with black rice and tangerine tahini sauce
recipe adapted from My New Roots by Sarah Britton
serves 10
3 cups or 500 grams black rice, soaked overnight if possible, rinsed and drained
1 medium pumpkin, about 1 kilo, such as Hokkaido or Delicata
a knob of coconut oil or ghee, melted
fine sea salt
handful dried pumpkin seeds (pepitas)
freshly cracked black pepper
½ cup or 10g chopped flat-leaf parsley
1 fresh chilli (serrano is a good choice)
handful of raisins, optional
Put the rice and a few pinches of salt in a small saucepan, add 6 cups/1.35 litres water and bring to the boil. Reduce heat and simmer covered, until the water is absorbed, 25 to 50 minutes (depending how long you soaked the rice). Remove from heat. While the rice is cooking, roast the pumpkin.
If you are using an oven, preheat to 200C. Cut the pumpkin in half, remove the seeds and slice the pumpkin into rounds or sections of approximately the same width. Put them in a single layer on a baking sheet, drizzle with melted oil and a few pinches of salt. Toss to coat. Roast the pumpkin until tender, about 30 minutes.
If you are using a campfire, turn the pumpkin over and cut out the bottom to make a round lid. Pre-cut into wedges, but not completely, so the pumpkin stays together. Clean out the middle and add some oil, parsley and pumpkin seeds. Put into a Dutch oven and cook on campfire for 30-45 minutes, but keep a close eye on it.
To serve, arrange the rice and pumpkin slices on each plate, sprinkle with cracked pepper, chopped parsley, chilli and the raisins if using. Drizzle with the tangerine tahini sauce. Serve extra sauce on the side.
tangerine tahini sauce
½ cup or 125ml tahini
2 tsp pure maple syrup
2 tsp apple cider vinegar
1 tbsp tamari
grated zest of 1 organic tangerine
1/3 cup or 80ml freshly squeezed tangerine juice
¼ tsp ground ginger
½ fresh chilli
flaky sea salt
Put the tahini, maple syrup, vinegar, tamari, tangerine zest and juice, ginger and chilli in a food processor or blender. Add ½ cup or 56ml water and blend on the highest setting until smooth. Season with salt if desired. Store any leftovers in a tightly sealed glass container in the fridge for up to one week.
This recipe first appeared in the June 2021 issue of SALIFE magazine.
Subscribe now
Subscribe Today!
Subscribe to South Australia's biggest-selling magazine, showcasing the best of Adelaide and South Australia.
From only $9 per issue
including free delivery to your door.