September 3, 2020
Recipes
Recipe: Apple & miso crumble pudding
Make Dad's day this Sunday with delicious homemade pudding, such as this classic crumble with a tasty modern twist.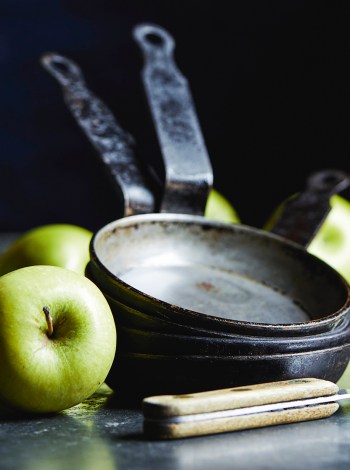 Apple & miso crumble
serves 4-6
1.5kg granny smith apples
30g butter
1 tbsp white miso
½ cup caster sugar
2 tsp vanilla bean paste
2 tsp cinnamon
1 tbsp plain flour
crumble
150g plain flour
125g butter, chilled
35g caster sugar
35g demerara sugar
water
Preheat oven to 180C. For the crumble, place the flour and butter in a medium bowl. Rub the butter into the flour, ensuring some pea-sized pieces of butter remain. Stir through the sugars. Fork through 1-2 tbsp of chilled water to create a crumbly mixture. Place in the refrigerator to chill.
Peel the apples and cut into rough chunks. Heat the butter in a large frypan over medium heat until melted. Add the miso and stir to dissolve. Add the apples and sugar and toss to coat in the butter mix. Cook for 5 minutes to allow the apples to release their juices and begin softening.
Add the vanilla, cinnamon and flour and cook for a further minute. Either place the apple mix in a single 1L shallow baking dish or portion amongst six 10cm cast iron pans. Top loosely with the crumble and place in the oven. Bake for at least half an hour, until juices are bubbling and the pastry golden. Allow the pudding to rest for 10 minutes. Serve with vanilla ice cream or double cream.
This recipe first appeared in the July 2020 issue of SALIFE magazine.
Subscribe now
Subscribe Today!
Subscribe to South Australia's biggest-selling magazine, showcasing the best of Adelaide and South Australia.
From only $9 per issue
including free delivery to your door.