Recipe: Pan-fried cauliflower with green olives, almonds & tahini cream
Give meat a miss tonight and take the humble cauliflower to new heights with this vegetarian taste sensation.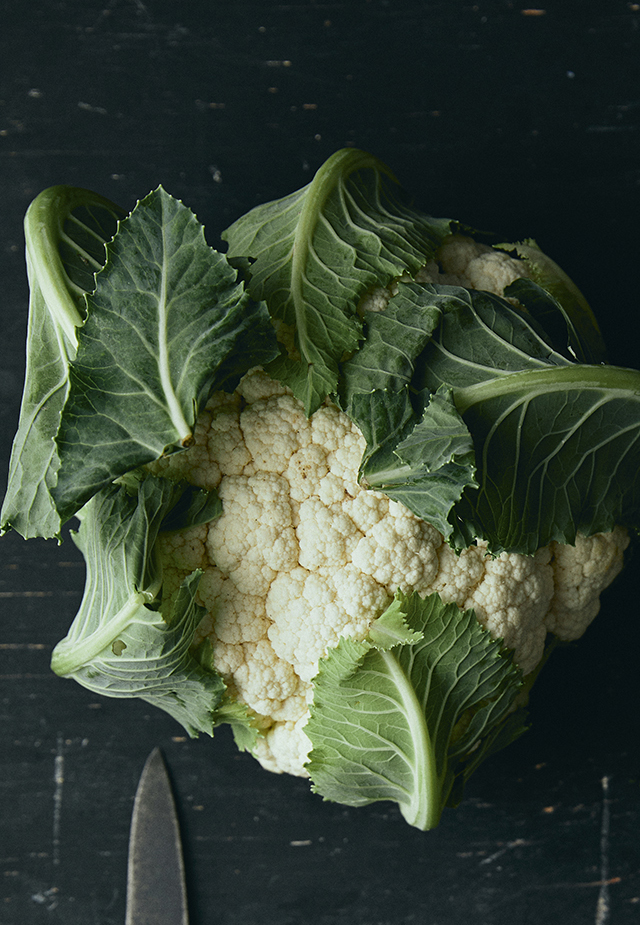 Pan-fried cauliflower with green olives, almonds & tahini cream
serves 2-4 as a side
1 medium cauliflower
20g butter
4 tbsp olive oil
½ onion, finely diced
1 celery stick, finely diced
1 garlic clove, finely chopped
½ green chilli, finely diced
½ rosemary sprig, leaves picked
8 green olives, pitted & halved
1 tbsp sherry vinegar
30g almonds, toasted & roughly chopped
for tahini cream
1 garlic clove
½ tsp sea salt
½ cup tahini
¼ cup lemon juice
2 tbsp olive oil
4-6 tbsp water
First, make the tahini cream. Roughly chop the garlic clove and sprinkle with the sea salt. Use the side of the knife to grind the garlic into a paste, place the paste into a small bowl. Add the remaining ingredients and whisk to form a smooth sauce, adding more water if necessary.
Slice a cross-section from the centre of the cauliflower approximately 2cm thick. Heat a medium frypan (with a lid) over medium heat, add the butter and 2 tbsp olive oil. Place the cauliflower into the pan and press down with a spatula to ensure even colouring. Once golden, turn over the cauliflower and reduce the heat to low and cover with a lid, checking frequently until done (a knife inserted into the stem will show little resistance).
Heat a small frypan over medium heat, add the remaining olive oil. Add the onion and celery and saute until softened. Add the garlic, chilli and rosemary and saute for a further minute. Remove the pan from the heat and add the green olives and sherry vinegar.
To serve, place 4 tablespoons of tahini cream in the centre of a serving plate. Position the cauliflower on top of the cream. Spoon over the green olive mix and finally sprinkle with the toasted almonds.
This recipe first appeared in the June 2020 issue of SALIFE magazine.

Subscribe now
Subscribe Today!
Subscribe to South Australia's biggest-selling magazine, showcasing the best of Adelaide and South Australia.
From only $9 per issue
including free delivery to your door.