Recipe: Ricotta doughnuts with rose petal jam & honey cream
As the bees buzz and the flowers bloom, bring the garden into the kitchen with these irresistibly dainty doughnuts.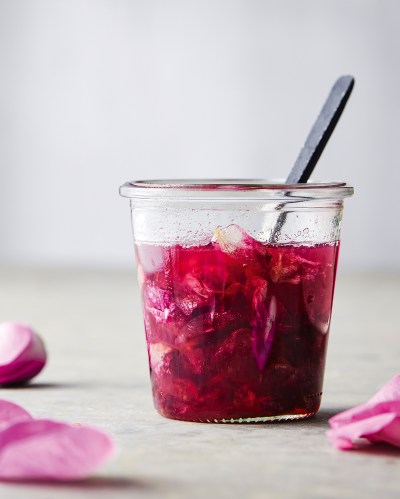 Ricotta doughnuts with rose petal jam & honey cream
makes 12-15 doughnuts
200g smooth ricotta
2 eggs
3 tbsp caster sugar
125g plain flour
1 tsp baking powder
caster sugar to coat
for jam
50g rose petals
300g white sugar
2 tbsp lemon juice
150ml water
1 tsp pectin
for honey cream
150g honey
300ml thickened cream
for crystallised petals
24 rose petals
1 egg white
caster sugar
To make the jam, place the rose petals, sugar, lemon juice and 100ml of water into a medium-sized heavy-based saucepan. Place over a gentle heat to dissolve the sugar (do not allow the mixture to boil). Dissolve the pectin in 50ml of water and add to the saucepan. Bring to the boil and cook for 20-30 minutes. To test for readiness, place a teaspoon of jam onto a saucer, allow to cool slightly and press down on the surface – it should wrinkle. Place jam in a small jar and store in the refrigerator.
Place honey into a small saucepan and bring to the boil. Add 100ml of cream and stir to combine. Place into a container and allow to chill in the refrigerator. When ready to serve, place the honey and cream mix into the bowl of a stand mixer. Add the remaining cream and whisk until soft peaks form.
To make crystallised petals, whisk egg white until frothy. Brush each rose petal with the egg white and place in a tray of caster sugar, rolling to coat. Place on a wire rack and allow to dry for several hours. These do not store well and are best consumed within 24 hours.
Fill a large heavy-based saucepan with vegetable oil to a depth of 5cm and heat over medium heat to 160C. Meanwhile, place the ricotta, eggs and sugar into a large bowl and whisk until smooth. Sift over the flour and baking powder and gently fold through. Place tablespoon amounts of batter into the oil and fry until golden and cooked through. Drain on a wire rack set over a baking tray. Roll doughnuts in a tray of caster sugar while still warm.
Serve doughnuts with rose petal jam, honey cream and crystallised rose petals – allowing guests to help themselves.
This recipe first appeared in the October 2020 issue of SALIFE magazine.

Subscribe now
Subscribe Today!
Subscribe to South Australia's biggest-selling magazine, showcasing the best of Adelaide and South Australia.
From only $9 per issue
including free delivery to your door.